DeeplyMoved's Top 25 Mixes of July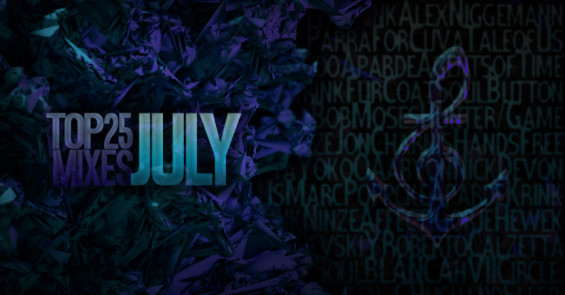 Wow, what a month… surely the gods of Soundcloud look down on us favourably, because there was a TON of really incredible mixes and live sets this past month. Some of my favourites were from: Tale of Us, Alex Niggemann, Hunter/Game, Agents of Time, Fur Coat, Soul Button, Bob Moses, Jon Charnis & Hands Free, Parra for Cuva, Aaryon, Nick Devon, Marc Poppcke, Aparde, Krink, Moosefly, Ninze, Affect!, Gorje Hewek & Izhevski, YokoO, Roberto Calzetta & Twin Soul, BLANCAh, VII Circle, Naveen G, Hush & Sleep, and 11-D. Have at it:
Parra for Cuva Live @Bloc / London

I think I'm on my 583,746th play of this amazing live set from Parra for Cuva. Gorgeous, uplifting and dreeeeaaamy but hardly sleepy melodies. This is one of those sets that you will return to time and time again months down the road… it's that special.
Tracklist:
Parra for Cuva -(unreleased)
Parra for Cuva – Champa
Parra for Cuva – Your inner workings
Parra for Cuva – Kopernikus
Parra for Cuva – Nagi
Parra for Cuva -(unreleased)
Parra for Cuva -(unreleased)
Parra for Cuva – Devi
Jahara – Dont Tell Me

KRINK Live @ Turmbuehne – Fusion Festival 2015

Oh man, was I excited sifting through the Fusion sets when I saw one from DeeplyMoved favourite Krink. He always has such an impressive live set, with all his productions and remixes of such a distinctively unique scathingly dark and intelligently crafted style, richly textured with interesting and sometimes slightly trippy sounds. So good. UGH. So good!

RáDIO VÍRUSSS #016 NINZE (live)

A new Ninze liveset is always an especially delicious treat… but the icing on the cake here (what's with all the food analogies? Am I hungry or something?) is that it's a whopping 2.5 hours on this one. A Ninze set can never be too long. Not when the journey is this particular flavour of hypnotic and engrossing ketahouse.

Tale Of Us – The Terrace – June 22nd @ DC10

Downloadable
As some of my favourite masters of the dark craft, I was lucky enough to catch the duo at Cityfox in Brooklyn a few weeks ago where they played an expected awesome set… this brings back (fuzzy) memories. Dark, deep, hard 1.5 hr techno set recorded at Ibiza's DC10. Lots of unreleased tracks in here.
Partial tracklist:
Howling – Signs (Rødhåd Remix)
Fur Coat – Bahnhof [Crosstown Rebels – CRM 142]
Trus'me – In The Red (DVS1 Remix) [Prime Numbers – PN 14]
Radio Slave – Don't Stop No Sleep (Tale Of Us Remix)
Klein – The Tone Of Venus
Locked Groove – Eleven
Scuba – Black On Black (Len Faki Goes Black Remix)
Heiko Laux – Hangin' (Sterac Electronics Mix 2) [Kanzleramt – KA 164]
Manuel Tur – 121 BPM [Running Back – RBB 03]
Carl Craig – At Les (Christian Smith Hypnotica Mix) [Iboga – DIGITAL 85]
Slam Feat. Tyrone Palmer – This World (Wighnomy Brothers & Robag Wruhme Remix) [Soma – 159]
Martin Buttrich – Stone Autopilot (C2 Version) [PMI Dance – REN 54CD]
Barnt – Cherry Red (Tale Of Us & Recondite Mix) [Magazine – MAG 131]
Jamie xx – Gosh (Tale Of Us Remix) [Unrealeased]

Rinse FM Podcast – Alex Niggemann – 4th July 2015

Downloadable
You can never expect anything short of a barrage of bombs from Alex Niggemann. Again he delivers with 2 hours of firepower including fresh releases off his Soulfooled and AEON imprints, among them his scathingly dark and raw new track "Asterism" from the awesome "Stellar" EP on AEON, Felkon – Creixell [Soulfooled], Dasein – Moon [Soulfooled], and Speaking Minds – Yaounde [AEON].
Other tracks include:
Qbeck – Amethyst [Audiomatique – AM 64]
Red Axes – Todum Todum [Hivern Discs – HVN 030]
Kyodai – Sacred Ritual [Room With A View – VIEW 027]
Andrea Oliva – Empty Lips [Objektivity – OBJ 034D]
Denis Horvat – Strange Nation (Show B Remix) [Upon You – UY 095]
Jacek Sienkiewicz – Stand Up [Recognition – RCD 002]
Marvin & Guy – Canción (Para Ti)
Andre Hommen – Introspectral [Poker Flat – PFR 164]
Slam – Ghosts Of Cirklon (Len Faki Remix) [Soma – 425D]
Alan Fitzpatrick – Vanishing [Hotflush – HFT 041]
Danny Daze – Ready2Go [Ultramajic – LVX 018D]
Antigone – Blue Note [Token – 53D]

"The Sound of Connaisseur" Radio Show #013 by Jon Charnis & Hands Free – July 27th, 2015

Downloadable
This mix by extraordinaire producers Jon Charnis & Hands Free arrives hot on the heels of their recent Connaisseur release "Leviathan," a track described as "super massive" by Sound of Connaisseur radio show host Olderic. The aforementioned superb track is included among a fine selection of deep, melancholy-tinged tunes, listed below.
Tracklist:
01. Roman Flügel​ – Black Towers [DIAL RECORDS​]
02. Kyodai​ – Sacred Ritual [Room With A View​]
03. Sebastian Mullaert​ – Direct Experience (Dub) [Traumschallplatten​]
04. Matthus Raman​ – Ambria [ MUSIK GEWINNT FREUNDE​]
05. ASHWORTH​ – Boa [Arkhivelondon​]
06. moosefly​ – A Prophet
07. Jon Charnis and Hands Free – Leviathan [Connaisseur Recordings​]
08. Bambook​ – The Storm ( The Drifter​ Remix) [Culprit LA​]
09. Denis Horvat​ – Strange Nation (SHOW-B​ Remix) [Upon You Records​]
10. Magit Cacoon​ – Love Express [Upon You]
11. Manuel Tur​ – 121 BPM [Running Back​]
12. Bjarki​ – Orange Juice Man [трип​]
13. Echonomist​ – Cinamon [memento records​]
14. Anthony Georges Patrice​ – Springs of a Being [ Lossless​]
15. Axel Boman​ – 1979 [Pampa Records​]

Gorje Hewek & Izhevski – All Day I Dream 2015

All Day I Dream has been bursting with beautiful new tunes this summer, and Gorje Hewek & Izhevski have quickly become favourites for me after seeing them at the incredible All Day I Dream party in Brooklyn a few weeks back. Tracklist contains many as of yet unreleased tracks from upcoming ADID releases by Behrouz, Lauren Ritter, among tracks by YokoO, Dave DK, Archie Hamilton, Matthias Meyer, and more.

StemPod009: VII Circle

Remember when Mind Against played that "Titan" track in their Playground Studio Brussels mix a while back and people went nuts on the internet trying to find out who produced it? These guys. (It's upcoming on Stem Records, and it's in this mix). Here's a really awesome debut mix from them with the specific flavour of dark, deep techno I crave.

Soul Button – Verboten – New York – Fri 07.24

It's a well-known empirical fact that DeeplyMoved is a huge fan of all sounds Steyoyoke, and lucky me got to witness this awesome set recorded at Verboten in Brooklyn, NY (and finally meet label head Soul Button, whom I interviewed previously, along with Dahu on the tail end of their US tour). Engaging melancholic melodies and emotive vibes prevail here, gradually descending into darker and heavier late-night sounds. The set was every bit as fantastic as I had expected, and we can only hope for more Steyoyoke tours in the US in the future…

Soul Button – Inner Symphony #009

Downloadable
Another from Soul Button, the latest in his popular "Inner Symphony" mix series featuring undiscovered gems, including his remix of Aaryon's "Hex," and Aaryon's remix of Solee's "Dromen."

Aaryon – Steyoyoke Podcast #042

Downloadable
I always expect a killer mix when I click play on anything from Aaryon, and am never disappointed. Great moody melodies to get lost in.
01. John Creamer & Stephane K – Forget The World (Acapella)
02. Aaryon – Enchantment (Original Mix)
03. Sonic Future – Prelude (Original Mix)
04. Schlepp Geist – The Suffer Between (Oliver Schories Remix)
05. Jos & Eli – Insomnia (Original Mix)
06. Ran Salman – Anamnesis (Original Mix)
07. BLANCAh – Vulture Dance (Original Mix)
08. Stephan Bodzin – Blue Giant (Original Mix)
09. AntiAlias – Somber Clarity (Midas 104 & Jonas Saalbach Remix)
10. Aaryon – Hex (Soul Button Remix)
11. John Creamer & Stephane K – Forget The World (Acapella)

Nick Devon – Nebula Podcast (July 2015)

Another Steyoyoke artist with a reliably awesome ear for darker tastes that happen to be in line with my own.
Tracklist:
1. Frankey & Sandrino ft. Jinadu – Lost (Adriatique Remix)
2. Alex Niggemann – Stellar (Original Mix) [AEON]
3. BLANCAh – Hummingbird (Original Mix)[Steyoyoke]
4. Colder – Turn Your Back (Marc Piñol Morning Dub) [BATAILLE]
5. Nick Devon – Ode (Original Mix) [Steyoyoke]
6. Fur Coat – Monday (Original Mix) [Balance Music]
7. Kurt Baggaley – Former Self (The Drifter Remix)[Something Happening Somewhere]
8. Joris Voorn – Sweets For Piano (Ripperton Remix)[Green]
9. Max Cooper & Tom Hodge – Remnants (Hunter/Game Remix)[Fields]
10. Fulltone – Sandbox (Nick Devon Remix) [Blindfold Rec]

Naveen G – Void Construct [July 2015]

I've been enjoying Naveen G's sets distantly via the magical music delivery tube that is the internet, but finally caught one of his sets IRL at the last Cityfox party. It's evident that a particular type of consideration goes into the design of his sets, with characteristically cerebral and brooding flow and selection.
1. Cryptik – Beliefs – Figure
2. Until 33 – Tasks and Time – Dushe
3. Winter Son – Veil Over World – Stem
4. Dude Energy – Renee Running – Animals
5. James Teej – Inside (Sahin Meyer remix) – Galaktika
6. Hearthug – Celestial Asterisms (Timo Maas remix) – Faceless
7. Helmut Ebritsch – Flamingo Park (Tim Engelhardt remix) – Lucidflow
8. Hunter_Game – Utopia – LNOE
9. Paul Woolford – Orbit – Hotflush
10. Jody Barr – Room 108 – Krankbrother
11. Julian Jeweil – 153 Essex St – Minus
12. Trikk – Liberal – Pets
13. Mike Tohr – No More Butterflies (Gab Rhome remix) – Subjekt
14. Guy J – Stolen Memory – Plattenbank
15. Trulyors – Buttons – Dushe
16. Atom TM – Riding The Void (Scuba remix) – Raster Noton
17. Scuba – Black on Black (Len Faki remix) – Hotflush
18. THe WHite SHadow – Goodbye – CHapter 24
19. Pisetzky – Off The Map (Locked Groove remix) – Just This
20. Stephan Bodzin – Wir – Herzblut

Esoteric Guest Series #4 – Hush & Sleep

A new podcast from the up and coming Dutch duo, ominous deep techno.

The Do LaB presents Fur Coat at LIB 2015

Love these guys and their particular style of dark vibes… this is a fantastic 2-hour set of complete fire recorded at Lightning in a Bottle.

Affect! – Crossfrontier Audio Podcast 029

Nice selection of newer tracks.
Downloadable
1.Stephan Bodzin – Powers of Ten ( Original Mix )
2.The White Shadow- Dream (MUUI Remix)
3.AFFECT! feat. Maximillion & Emina Helena – Polyhymnia ( Original Mix )
4.Foreign Guest – Rek ( Original Mix )
5.Alerch – Stroking Walls ( Kris Davis Remix)
6.Frankey & Sandrino – Acamar ( Original Mix )
7.Luis Junior – You Inspire Me ( Marten Sundberg Remix )
8.The Box – Sketches of Pain (Jon Charnis Remix)
9.Philipp Kempnich – Cyan (Affect! Remix)
10.Yokoo – Satya ( Original Mix )
11.Stephan Bodzin – Zulu ( Original Mix )

Marc Poppcke – Favourites Of The Month July 2015

Downloadable
Crossfrontier Audio labelhead Marc Poppke's "Favourites of the Month" series is always a great selection of new music.
01 Erkka – Museme [Anjunadeep]
02 Mathame – Amen (Matthias Meyer Remix) [Souvenir Music]
03 Someone Outside – Parallel Worlds (Patrice Baumel Remix) [ARDOR Music]
04 Alex Niggemann – Gravity
05 DAVI – Ordinary Nightmares [Tenampa Recordings]
06 Stas Drive – Intergalactic Summer [Movement Recordings]
07 Kai Anschau, Mallory N – I Can't Stay (Pete Oak Remix) [Making You Dance Records]
08 Mars Bill – Body Count [Suara]
09 Cristoph – Moments [Selador]
10 Jacek Sienkiewicz – Stand Up [Recognition]
11 Frankey & Sandrino – Acamar [Innvervisions]
12 Stephan Bodzin – Wir [Herzblut Recordings]

Radio Show 065 – Hunter / Game take over – Hosted By Eagles & Butterflies

Downloadable
Love Hunter/Game, this mix has many new and unreleased jewels.

Agents Of Time – Deep House Amsterdam Mixtape #159

Downloadable
This is an Agents of Time DJ set rather than a liveset, so a bit of a diversion from their typical sound.

"The Sound Of Connaisseur" Radio Show #012 by Moosefly – July 20th, 2015

An excellent selection of interesting tracks that are pretty much all new to me, including the flymoose original "The Space Between," upcoming on Connaisseur, and a superb as of yet unreleased remix of "Let the End Chime" by Of Norway. Now that's fly.
01. DNGLS – Hooly (Len Faki Beatless Version) [Anemone]
02. Aaron Ahrends – Casiotone 401 (Dave DK Edit) [andmusic]
03. Moosefly – The Space Between (Original Mix) [Connaisseur Recordings]
04. Aparde – Urge (Original Mix) [Stil vor Talent]
05. Harry Light – Roll On (Bas Amro Remix) [BEEF Records]
06. Rockaforte – Blowing Away (Original Mix) [Tiefblau]
07. Malin Genie – Propter vs Soulpatrol – Love Variations pt1 (Charlie Dark Reconstruction) – Moosefly Mashup
08. Mobile Sound System – Swag (Original Mix) [BEEF Records]
09. Nicolai Toma – Turn It On (Talul Remix) [WellDone!]
10. Of Norway – Let The End Chime (Moosefly Remix) [Connaisseur Recordings]

Electronic Beats Radio EB On Air: Aparde

40 minutes of some really quite nice Aparde productions.
Aparde – Dim
Aparde – Wallow
Aparde – Unison
Aparde – Loom
Aparde – Other People

BOILER ROOM Upfront 031: Bob Moses

Something a little different than their typical liveset. Says Tom & Jimmy: "Instead of just mixing a bunch of favourite records together, we like to fiddle around and cut things up." This ensuing mix is the chill and flowing product of creative manipulative endeavor.
01.Intro Mashup/Mouth (Dub) – Ghost Culture
02.Islander – Portable Sunsets
03.Fourth Of July (Bob Moses Re.) – Sufjan Stevens
04.Talk (Black Light Smoke Remix) – Bob Moses
05.Stuck (Demo) – Iain Howie
06.The Three Sides of Audrey and Why She's All Alone (Drum Edit) – Nicolas Jaar
07.Ever Or Not – John Roberts
08.A Bit Warmer – Glenn Astro
09.St.Etienne – HateLate
10.Heard Four Tet Play, Loved, Recorded & Made Edit To Play – Unknown
00:00:00Be Brave Clenched Fist – Leon Vynehall
12.Eden – Ben Khan
13.The Clown – Maribou State
14.? – Pantha Du Prince
15.Swim (Drum Edit) – Nicolas Jaar
16.Pass Them By (Piano Edit) – Agnes Obel
17.Cloche – Fort Romeau
18.Murmuration – Go Go Penguin

Roberto Calzetta & Twin Soul – Live at Diynamic Outdoor – Off Week Edition, Barcelona (20-06-2015)

Great liveset recorded at Diynamic Off Week, containing only their own productions (mostly unreleased).

Mantra Recording XIV – 11-D

I've been following the Mantra Recordings from their onset and they are always quite good. This recent episode does not stray from the formula of excellent darkly toned soundscapes.

Electronic Groove EG.535 YokoO

Downloadable
Mellow, deep grooves and chill vibes.

BLANCAh – MOARRR mix

Downloadable
This podcast by Steyoyoke artist BLANCAh of Brazil features some new tracks off her recent "Birds" album, and other dark picks.
Tracklist
1 – BLANCAh – Casuar (Original Mix)
2 – The Box – Sketches Of Pain (Jon Charnis Remix)
3 – BOg – Grey (Original Mix)
4 – Myr – Nobody know (Original Mix)
5 – Slam – Ghosts Of Cirklon (Len Faki Remix)
6 – Speaking Minds – Yaounde´ (Original Mix)
7 – Malandra Jr. – Infinity (Original Mix)
8 – Foreign Guest – Fin (Original Mix)
9 – Baal – Lumen (Original Mix)
10 – BLANCAh – Vulture Dance (Original Mix)

Tags: Agents of Time • Mind Against • mixes • podcasts • Tale of Us