Mysteryland USA 2015 Features Substantial Underground Lineup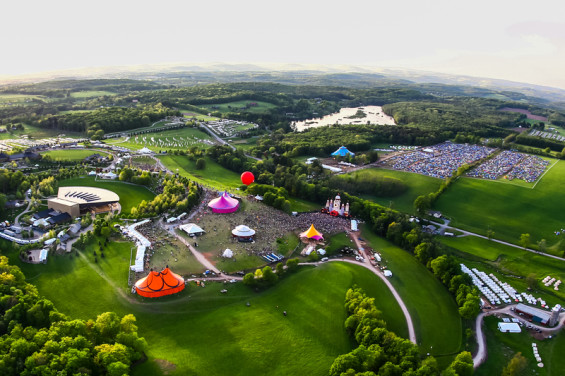 Aerial view of Mysteryland USA | Photo Credit: Joey Timmer
Set at the Woodstock '69 site, the Memorial Day weekend 3-day camping festival Mysteryland USA features a substantial underground music component. The lineup includes: Richie Hawtin, Maceo Plex, Josh Wink, Bob Moses, Adam Beyer presents Drumcode (Adam Beyer, Nicole Moudaber, Ida Engberg, Alan Fitzpatrick, Paul Ritch, Bart Skilz), Matthew Dear presents Subversions (Matthew Dear, Paco Osuna, Maya Jane Coles, Matador, Anja Shneider, Ryan Elliot, Kevin Castro), Verboten (Lee Burridge, Damian Lazarus, Andhim, Eric Volta, Bedouin, Stadenco), Verboten presents Flying Circus (The Martinez Brothers, Audiofly, Mayaan Nidam, Jozif, Ashwin Kosha, Niki McNally), Zeitgeist (Skream, Lee Foss, Benoit & Sergio, Kill Frenzy, Psychemagik, Wild Dark), Zeitgeist presents French Express (Moon Boots, Perseus, Agoria, Kink, Super Flu), Classixx, Claptone.
The U.S. edition of Mysteryland is excited to announce its full musical lineup for their second year at Bethel Woods Center for the Arts, the site of legendary 1969 Woodstock festival this Memorial Day weekend on May 22-25, 2015. The musical legacy at these sacred grounds continue to evolve for a new generation with a myriad of curators, tastemakers, and selectors bringing together the very best in today's electronic music culture and arts. With 90% of camping tickets already sold out, act fast to take part in the community experience and make festival history.
Since its inception overseas, Mysteryland has always been dedicated to serving as a haven for the underground dance music fans. It continues this long tradition with three dedicated stages each day to explore at the US edition. In the Big Top, Matthew Dear Presents Subversions, his avant garde residency party launched at Verboten nightclub last year with the underlying vision of "performing with artists who inspire me by playing forward, body moving electronic music." His hand-picked selection of globally revered artists include: Paco Osuna, special guest Maya Jane Coles, Matador, Anja Schneider, Ryan Elliott, and Kevin Castro. For the techno lovers on Saturday on Sunday, Adam Beyer Presents Drumcode will showcase heavy hitters Nicole Moudaber, Ida Engberg, Alan Fitzpatrick, Paul Ritch, and Bart Skils.
New York nightclub Verboten, donned "Brooklyn's revered underground chapel" by THUMP, curates an array of dynamic talent throughout the holiday weekend. The uniquely designed wood & mirrored Spiegeltent makes its return with Verboten hosting underground champions Lee Burridge, Damian Lazarus, AndHim, Eric Volta and more on Saturday. On Sunday, Verboten Presents Flying Circus will feature Ibiza mainstays The Martinez Brothers, Audiofly, Martin Buttrich, Guti (live), Maayam Nidam, jozif, and more.
Verboten's popular genre-spanning indie series Zeitgeist also takes over the open-air stage for two days, bringing Skream, Lee Foss, Benoit & Sergio (live), Kill Frenzy, Psychemagik and Wild Dark, followed on Sunday with Zeitgeist Presents French Express taking the reigns and laying down the grooves with Moon Boots, Perseus, Agoria, Kink (live) and Super flu. Throughout the weekend, major underground players will share the stage with up-and-coming local NYC DJ & producers such as Bedouin, Stadenco, Ashwin Khosa, Niki Mcnally, showcasing Mysteryland's ethos of bringing together internationally renowned and emerging artists.
About Mysteryland
Mysteryland dates back to 1993 and is now the world's longest-running dance festival. With a clear focus on culture, art, talent, creativity and sustainability, the festival takes visitors to inspiring and surprising worlds where literally anything is possible. The first international edition of Mysteryland was held in Chile in 2011. In May of 2014, Mysteryland made its USA debut at the site of the legendary 1969 Woodstock Festival and now returns for its second edition. Mysteryland is an ID&T concept. ID&T is an SFX Entertainment Inc. company.
About Bethel Woods Center for the Arts
Bethel Woods Center for the Arts inspires, educates, and empowers individuals through the arts and humanities by presenting a diverse selection of culturally-rich performances, popular artists, and community and educational programming. Located 90 miles from New York City at the site of the 1969 Woodstock festival in Bethel, NY, the lush 800-acre campus includes a Pavilion Stage amphitheater with seating for 15,000, an intimate 440-seat indoor Event Gallery, the award-winning Museum at Bethel Woods, and a Conservatory for arts education programming.
Through the in-depth study and exhibition of the social, political, and cultural events of the 1960s, as well as the preservation of the historic site of the Woodstock Music and Art Fair, Bethel Woods educates individuals about the issues and lessons of the decade while inspiring a new generation to contribute positively to the world around them. The not-for-profit organization relies on the generous support of individuals, corporations, and foundations to develop and sustain programs that improve the quality of life in the region and beyond.
Find out more:
Festival information
Mysteryland USA
May 22-25, 2015
Memorial Day Weekend 2015
Bethel Woods Center for the Arts
Bethel, New York
21+ festival
Mysteryland.us
Facebook.com/MysterylandUSA
Twitter.com/MysterylandUSA
Soundcloud.com/MysterylandMusic
Instagram.com/mysteryland_usa
Youtube.com/Mysteryland
Tags: Event • Mysteryland USA