Movement Festival 2015: America's Techno Mecca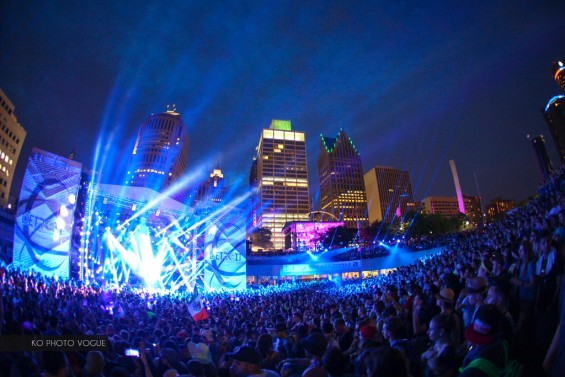 Photo credit: KO Photo Vogue
As the once-underground techno lover's mecca, Detroit's Movement Festival (formerly DEMF) has enjoyed major growth, allowing it to expand to an impressive 6 stages. The almost post-apocalyptic, raw feel of modern Detroit, along with its entwined history as the birthplace of techno, make it a perfect setting for the festival. Set in the iconic Hart Plaza, framed by a scenic backdrop of skyscrapers including the GM Building, and flanked by a lovely waterfront abutting Canada, the industrial overtones fit the profile of a techno lover's playground perfectly. 6 stages of sound with a variety of programming ensured something for everyone, ranging from Detroit techno royalty, as well as locals, to deep house leaning DJs, to somewhat controversial mainstream appealing acts.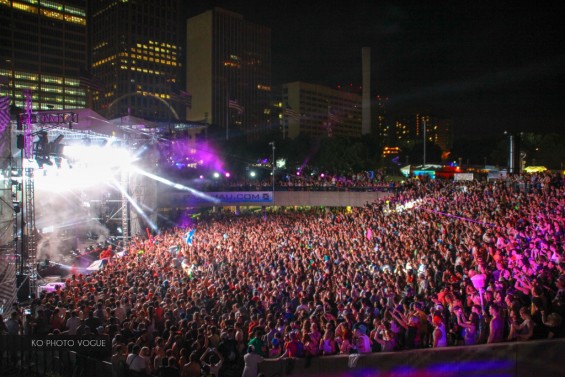 Photo credit: KO Photo Vogue
With an estimated attendance of 100,000 through the 3 days Movement spans, the rapidly increasing trajectory of popularity did create some issues. Most notably, the will-call ticket snafu on the first day, precipitated by a change in ticketing service, left frustrated crowds in line for hours outside the festival (which Movement vowed in the wake of social media outcry to resolve). VIP ticket holders found themselves in long lines for the restrooms, sometimes as long as a frustrating 45 minutes, missing the majority of whatever set they left. Aside from some issues relating to the rapid growth of the event, revelers found the festival a refreshing escape from the typical American candy-coated festivals engineered for the masses.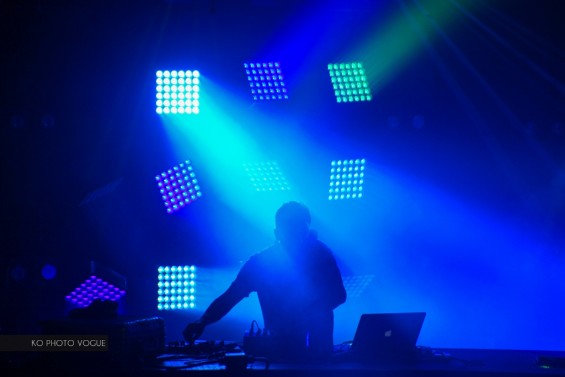 Photo credit: KO Photo Vogue
The Underground stage, aka the "rave cave," was, as the name suggests, underground. After a struggle of slowly weaving through the densely packed throng of people who chose to block the only ramp in and out, the dark dance pit was an escape from the daylight. Kangding Ray in particular stood out from the sets that played here, with a unique, darker style set he performed live. Rodhad and Marcel Dettman on subsequent days were also revered crowd favourites.

Photo credit: KO Photo Vogue
Above ground, the Beatport aka "pyramid" stage edged up to the waterfront, a lovely view apart from the stunning visuals this stage provided. A viewing platform was available for VIP guests here, and the concrete pyramid was also prime viewing territory for those who wished to climb up for a higher view. KiNK played an impressive live set. Heinrik Schwarz' unique orchestral style was also a big hit.
The Sixth Stage showcases Detroit locals Konkrete Jungle and Detroit Techno Militia. The Thump stage played host to Detroit Love, Ghostly International, and Kevin Saunderson Presents Origins. Red Bull Music Academy featured Disclosure Presents Wildlife and Metroplex 30-Year Anniversary Showcase, among other acts.
Finally, the main stage, aptly named the Movement stage, was a sort of half-lowered ampitheatre of descending steps leading to the main attraction. It was here that the majority of DeeplyMoved favourites played- the deep, haunting sounds of Recondite, the dancefloor fire of Mano le Tough and Dixon, and the musical foreplay tease of Richie Hawtin closing it out on Day 1. Other highlight sets were the always phenomenal Bob Moses' live performance, and Maceo Plex just killing it in his usual awesome fashion. Of the mainstream acts, however, none drew nearly as much ire and mixed opinions as DJ Snoopadelic, who played something akin to a top 40 wedding set. His closing slot on the final day was blasted across social media as a "wasted opportunity," among other adjectives, while high profile DJs were observed leaving the vicinity immediately after hearing him start. Others were glad the mainstream act drew crowds away from their favourite DJs for a more comfortable dancefloor and more authentic crowd. Joris Voorn was one of the DJs who played an excellent closing for those who did not want to hear Journey or the Baking Soda/In Love With The Coco song as their last memory of the event.
As if 3 days of parties weren't enough, dozens of official afterparties were available to choose from for those who wished to extend the partying into long sleepless nights. Personal favourites for us were the sold-out Innervisions party and Crosstown Rebels' Rebel Rave, both located in the charmingly historic but deteriorating and possibly haunted Leland Hotel/City Club. Hot, sweaty, grimy warehouse vibes prevailed here with excellent lineups all around. "OK, Cool" at TV Lounge was a nice segue into the spectacular annual shitshow that is the infamous "Need I Say More" at Old Miami.
Overall, the pilgrimage to Motor City was well worth it (dirt-cheap airfare into Detroit and Uber prices sweeten the deal). With 3 days (and nights) of techno favourites, it's easy to see how Movement has grown so rapidly into the huge draw it is for passionate techno lovers across the country (and even some from abroad).

Listen to some of the 2015 Movement Festival sets from Maya Jane Coles, Joseph Capriati, Eats Everything, Catz n' Dogs, and more on Soundcloud:

Linkage: Movement Festival Official Website // Movement Festival Facebook
Tags: DEMF • Detroit • festivals • Movement • techno