Further Future 2016: Uniquely Hybridizing Music, Tech, Sun & Fun at FF002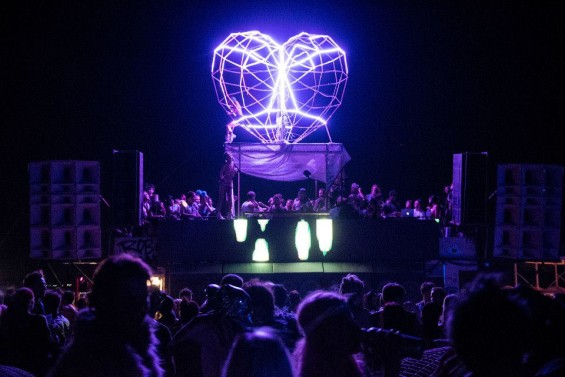 Photo credit: Nicolas de Panam

Primed for its second voyage, Further Future is poised to be one of the coolest, most forward-thinking festivals around. Uniquely operating at the crossroads of more than a few of my favourite things, including a great palette of musical offerings, science and technology elements, delicious eats, and a good crowd of beautiful and interesting people in a visually stunning setting, the hybrid event promises to appease the music snob in me just as much as the nerd in me.
Conveniently just a quick 45-minute or so drive from Las Vegas, the picturesque desert landscape of the Moapa Indian reservation could very well be Martian terrain, fittingly so for the futuristic theme, far enough for seclusion yet not too remotely distanced from the real world. Proximity to a major airport has perks, with the round-trip flight from my hometown of Miami being less than $200.
Home to the Robot Heart sound bus of Burning Man infamy, the event features a total of 5 stages, including the Mothership, Void Village, Booba Cosmica, and the 24-speaker ENVELOP Satellite surround sound. The musical lineup is diverse, including a range of DJs and live acts including Nicolas Jaar, Caribou, Four Tet, Lee Burridge, Leftfield, HVOB, Rampue, Satori, YokoO, DJ Tennis, &Me, Matt Tolfrey, Frank & Tony, Pattern Drama, Derrick Carter, Spacebyrdz, Dixon, Dixon, Dixon, Dixon, Dixon, Dixon (that's 6 hours of Dixon-Robot Heart sunrise glory), and more, as well as Robot Heart's Benjamin Alexander, Swamy, and John Dill. There's something for everyone, and certainly a lot of spontaneous music discovery will be occurring with the less familiar names.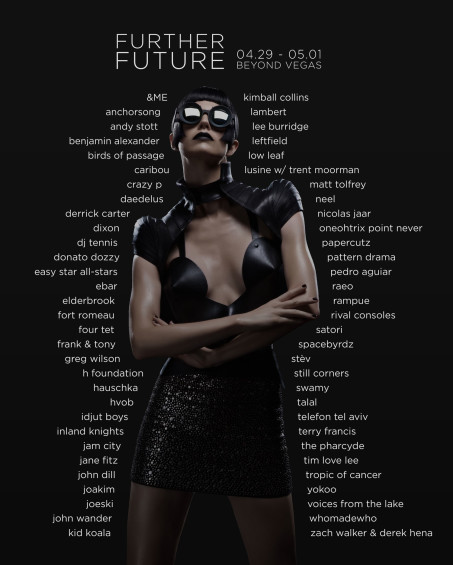 The uber-nerd in me rejoices at the non-musical extracurricular activities as well- virtual reality and robotics exhibits, TED-style talks, innovative product demos. With 60+ speakers including Bob Pittman (CEO, iHeartMedia), Eric Schmidt (executive chairman of Alphabet/Google), Stan Chudnovsky (Facebook), Darren Aronofsky (movie director, e.g. Requiem for a Dream), et al, on a variety of topics including tech, entrepreneurism, music industry, food sustainability, consciousness, and others. As a neuropsychopharmacology specialist myself, I'm particularly enticed by the myriad speaker offerings and demos on neuroscience-related topics, consciousness hacking, biofeedback devices, etc. But most of all, I have to say I'm excessively excited about trying virtual reality for the first time (we won't count my adorable Google Cardboard), via Oculus Rift, as well as other innovative gadgets like Glyph, Plume Cathedra, and Sana by Sleepstarter. There will also be robots, both of the eponymous RH variety, as well as Hanson Robotics' humanoid, and my dancing circa 9 a.m. post-sunrise. I'm not even going to attempt to touch on all the other goings-ons at the event because there is just so much… Sunset yoga. Ayahuasca Q&A session. Cognitive optimization and age defiance workshop. Moapa land sunset hike. Immersive guided sound meditation. There's so much more, so peruse the Further Future website for more deets on the schedule and activities.
The anticipation is building as the event nears, and I'm pretty excited to be traipsing in the desert alongside a mad max-esque and futuristic attired crowd, dancing for hours to some great music as the sun ascends to join us on the dancefloor, and nerding out to a variety of talks and gadget demos on subjects that fascinate me. But most of all, I'm excited to be amongst thousands of other like-minded awesome people who share these same passions as me- that is what makes FF so special.
Linkage: Further Future website / Tickets // Further Future Facebook // Further Future Soundcloud
Protip: The site of the event is super close to one of the most amazing national parks in the U.S., Valley of Fire. Be sure to make time before or after the event to visit breath-taking lava-red slot canyons and fascinating rock structures.
This FF02 Promo mix from HVOB is really good, listen to it: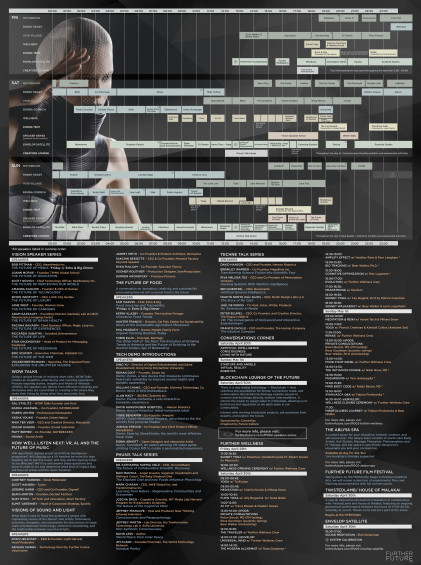 A SCHEDULE FOR ANTS!? (click)
Full Lineup: Nicolas Jaar, Four Tet, Lee Burridge, Caribou, Leftfield, Easy Star All-Stars, Kid Koala, DJ Tennis, Dixon, Oneohtrix Point Never, The Pharcyde, &ME, Daedelus, Derrick Carter, Crazy P, WhoMadeWho, Tropic of Cancer, Birds Of Passage, Greg Wilson, Terry Francis, Telefon Tel Aviv, Elderbrook, Fort Romeau, Andy Stott, Low Leaf, HVOB, Papercutz, Still Corners, Idjut Boys, Frank & Tony, YokoO, Derek Hena & Zach Walker, Lambert, Satori, H Foundation, Anchorsong, Spacebyrdz, John Wander, Raeo, Tim Love Lee, Donato Dozzy, Ebar, Hauschka, Inland Knights, Jam City, Jane Fitz, Joakim, Joeski, Kimball Collins, Lusine w/ Trent Moorman, Matt Tolfrey, Neel, Pattern Drama, Pedro Aguiar, Rampue, Rival Consoles, Stev, Talal, Voices From The Lake, Benjamin Alexander, Swamy, John Dill

Very nice remix by headliner Dixon of Richie Hawtin (who will also be hosting his ENTER.Sake pop-up BAR at FF):

Tags: festivals • FF002 • Further Future • tech