Further Future 2015 in Review: FF01Flashback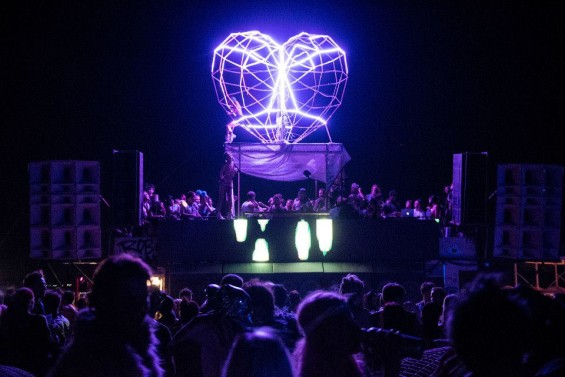 Photo by Nicolas De Panam
Robot Heart is a name nearly inextricably synonymous with Burning Man. Those who have made that infamous annual desert pilgramage have almost certainly experienced sunrise on the deep playa at the Robot Heart sound bus. Of those who haven't been, more than likely have heard the almost legendary, hugely popular sets on SoundCloud. When I heard that they were launching their own spinoff festival, I was more than intrigued. It was announced that it would be "invite only," provoking something of a backlash on social media against the seeming affront to Burning Man's "radical inclusion" principle by having luxury options such as glamping and the exclusive fenced-off Gypset village (though a friendly message to the Facebook Page was all that was needed for an invite code). Like any first-year festival, I was uncertain what to expect, though I later discovered the event intends to embody being beyond than just a music festival, operating at the crossroads of music, technology, and individualism.
Close distance to LAS airport made this festival an easy weekend getaway. Arriving onsite, much of the site was still under construction from a last-minute venue change, but being back on martian Nevada landscape had that familiar feeling of returning home to the playa. Everything was close distance and walkable, no need for bicycles. There were multiple stages, ranging from a huge typical festival production stage, the intimate Gypset stage, and, of course, the Robot Heart bus itself. There was only one stage running during the day on Saturday, with all kinds of bizarre and entertaining things going on, as if we were transported into a Studio 54 desert oasis. With attendance probably being around 2000 people, no one stage was ever densely crowded, and at times there was a sort of a ghost town feel on the festival grounds (though certainly that number will grow rapidly as the festival is improved and people quickly catch on), but the crowd was one of good vibes, sexy people, and often flamboyant attire. "Costumes are encouraged," the event description had said (much to my delight), accompanied by photos of svelte models in skimpy futuristic cyberwear on a desolate alien landscape. Though Burner vibes prevailed, attire leaned heavily toward a futuristic or post-apocalyptic angle- lots of shiny metallic silver and gold materials, and perhaps a lot more black than Burning Man. Favourites like Bedouin and Thugfucker were on the lineup, and live sets by Kiasmos and Bob Moses were some of the musical highlights. A selection of foodie-type foods were available for purchase using the RFID wristbands- bahn mi, poutine, fancy cocktails. Free water was available; always a commendable effort in my opinion, especially critical in desert setting. Like the iconic Robot Heart glasses, there was Further Future shwag popping up occasionally- the large, round, space-goggle-looking glasses that would become the mainstay of the developing Further Future image, as well as some rectangular ones, and grey hooded cloaks with the FF robot head insignia. Beyond the music, TED-style talks, virtual reality and technology demonstrations, and spa services were also on the menu.
Some cool stuff- the chaise lounge pod things. There were these large, cushioned pods scattered about the grounds; some had been dragged off into campsites, draped for shade, and incorporated into camps. Everyone agreed that these were awesome (especially those who had absconded with one). The ones outlining the edge of the Robot Heart area were a huge hit after sunrise, and additional ones in that area would be a welcome addition in the future. And speaking of sunrise, people were buzzing about the distribution of caviar at the Robot Heart stage after the day broke. Yes, caviar.
One of the most memorable moments for me was when a friend ran over to the Mothership stage informing us that Canson was playing, and we immediately headed over. The sound at the intimate Gypset stage with the surrounding speakers was incredible, the expanse of desert behind the small stage ablaze with the firey colours of sunset, and the glowing moon overhead bolstered the surrealism backing Canson's gorgeous and hypnotic set. Eduardo Castillo followed, cultivating beautiful vibes.
Though the scheduled artists were slated to stop some time Sunday, the music continued into early Monday. The heart on the Robot Heart bus began to glow distantly, a beacon in the night sky for a crowd seeking one last hurrah of debaucherous desert bacchanalia, dressed as their Future selves in galactic space attire, Game of Thrones-looking cloaks, and gypsy and burner threads, with an unannounced lineup including Jon Charnis and Anton Tumas.
Being a first-year festival, quirks were to be expected. Attendees were polled post-event for feedback and suggestions which was commendable, and for this year's rendition, an improvement statement was posted to the website. While the higher-end of the FF experience was out of reach for me personally, I don't feel that anyone who is interested in being a part of what they are creating should feel deterred by not having access to the more luxurious options available (relevant reading: Further Future Co-Founder Jason Swamy: "This Isn't Just a Festival For the 1%"). Overall, FF01 was a completely unique experience with a lot of promise, and already as one of my favourite festivals, I'm pretty excited about FF02.
Find out more: Further Future website // Further Future Facebook

Recap video:
FF02 Promo mix from HVOB:


New track from FF02 2016 headliner Lee Burridge:


Tags: Burning Man • festivals • FF01 • Further Future • Las Vegas