DeeplyMoved's Top 25 Mixes of October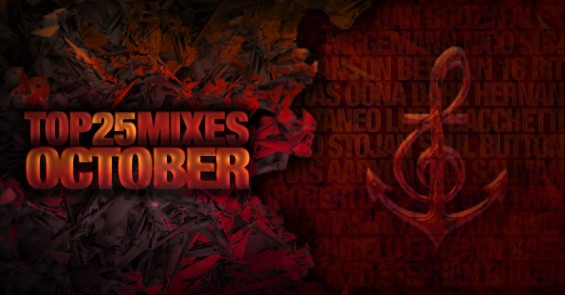 With the month of October defined by ADE sets pouring in and Burning Man sets still going strong, it was as if an occult hand sprinkled fistfuls of mixes down onto the listening community. Our top picks included sets by: Stephan Bodzin [Boiler Room], Alex Niggemann [Boiler Room and AEON], Nico Sun [Garbicz Festival live set], Canson [Katermukke live set], Bedouin [Mixmag NYC], 16 Bit Lolitas [Anjunadeep], Oona Dahl [Robot Heart, Burning Man], Hernan Cattaneo [White Ocean, Burning Man], Luca Bacchetti [The Garten], Nico Stojan [Robot Heart, Burning Man], Thyladomid [Electronic Groove], Baez [Bespoke], Soul Button [KaterBlau, ADE Steyoyoke showcase], Aaryon [ADE Steyoyoke showcase], Ran Salman [ADE Steyoyoke showcase, live set], Roberto Calzetta & Twin Soul [ADE Diynamic showcase], Mashk [ADE parquet showcase, live set), Amentia [ADE, live set], Javid [live set], Dubelu [OOWLS], Efdemin [SlamRadio], and an Etapp Kyle throwback.

Stephan Bodzin Boiler Room Berlin Live Set

One word: EPIC. Stephan Bodzin is an absolute synth sorcerer, weaving unexpectedly gorgeous, chill-inducing melodies from raw, analoguey growls in a way that no one else has done, bursting with powerful emotion. Every time I listen to this set I am flooded with goosebumps and left speechless. He is a musical genius and this is a very special, incredible set.

Alex Niggemann Boiler Room Berlin DJ Set

The epitome of the dark, melodic vibe, Alex Niggemann is one of those rarities whose productions are equally as brilliant as his sets. This is full of spectacularly moody picks, including his jaw-dropping techno bomb "Divergent" featuring busy percussion and cinematic flourishes of drama, and Tale of Us's fire "North Star", among others.
Partial tracklist:
[00] Alex Niggemann – Nebula [Last Night On Earth – LNOE 045]
02. [04] Locked Groove – Eleven [Life And Death – LAD024 DIGITAL]
03. [08] Fabio Gianelli – Whispers
04. [??] Compost Allstars – Good Day (Show B Vocal Dub)
05. [19] Dave Ellesmere & Polder – Today Tomorrow Yesterday [Intacto – INTAC 012]
06. [25] Alex Niggemann – Angular
07. [??] Tale Of Us – North Star
08. [??] Alex Niggemann – Convection
09. [??] Jona – The Chase (Speaking Minds Remix)
10. [??] Alex Niggemann – Divergent
11. [??] Alex Niggemann – Luminance

Nico Sun | Live @ Garbicz Festival 2015

EDIT: Accidentally posted the wrong set, but I've been rinsing it so obsessively that I absolutely had to include it here. No laptop speakers allowed, for that is a sin; a subwoofer is a must when listening to this hypnotic, ketahousey live set characterized by great tribal-ish percussion and deep, mesmerizing melodies. This set of all his own unique material is absolute perfection.

Mezcla 22 / Nico Sun / Andante

This is the one from October.

Katermukke Live Set by Canson

Lovely, lovely Canson gorgeousness, with some familiar and some newish, but sadly only 30 minutes. It's okay, just repeat it twice.

Bedouin live @ the Mixmag Lab NYC – October 2015

Incredible, incredible Bedouin set with deep, rich melodies. "A one hour set of all brand new and existing Bedouin original productions, remixes and edits recording at the Mixmag Lab in Brooklyn on October 9th, 2015." Definitely give this a listen before it gets pulled from Soundcloud, it's just breathtaking.

The Anjunadeep Edition 70 with 16 Bit Lolitas

This started playing in my feed by accident and I had never heard 16 Bit Lolitas before. This set is stunning, gorgeous, and uplifting, with a lot of really pretty melodies, vocals, and sounds. I have to be brutally honest, my only complaint with this is the second to last track does not fit the vibe of the rest of the mix at all- a random dark, loopy, and overtly boring tech house track that utterly decimates the lovely mood that had been cultivated for the last hour or so. But the rest of the mix is so gorgeous that I listened to it at least a dozen or two times that I had to include it here.

Oona Dahl – Robot Heart – Burning Man 2015

Incredible set of deep, melodic, lovely jewels from Robot Heart. It was a freezing night on the playa with everyone bundled in thick furs, dancing to stay warm, and I am happy to be able to enjoy it at a more comfortable temperature. It's a really great set I've rinsed quite a bit this past month.

Travel Diary (Part 1) – Javid *Liveset*

Whoa. Stumbled upon this ethnic-vibed ketahousey journey, and it's pretty amazing. Hypnotic, with nice percussion, ethnic instruments and vocal bits. The track at 24:00 especially shines, a goosebumper for sure. Really looking forward to hearing more from this mysterious Facebook-less producer.

Hernan Cattaneo – White Ocean – Burning Man 2015 (Sunrise set)

Downloadable
White Ocean was epic this year, incredible lineup of great artists playing at one of the most incredibly produced stages I have ever experienced. Now throw in maestro Hernan Cattaneo for a beautiful set, and you have the recipe for an incredible and memorable playa moment. Over 100k plays on this 2.5 hr set says a lot.

Mashk Live @Parquet Recordings / La Reve ADE showcase 2015

Mashk's debut live set in his unique melodic style, with "special versions of my tracks and one original which'll be released soon on Parquet Recordings." Also check out Mashk's DeeplyMixed podcast and interview he did for us.

Nico Stojan – Robot Heart – Burning Man 2015

This is the first Robot Heart set I've posted that I missed in person. Who knows where I was… only the playa remembers, because I sure as hell don't. Lovely deep vibes on this very nice set.

Luca Bacchetti at The Gärten, Beirut 19.09.2015 (part.1)

Downloadable
Luca Bacchetti always nails it with the track selection and keeps the dancefloor moving with interesting selections, and brilliant new productions as well. So many gems in here.

AEON PODCAST 015 – Alex Niggemann

Good things come in twos, they say, so here's another Niggemann set.
1. Jes Shaw – Love Doubled – Delicacies
2. Daniel Bortz – Lonely Soldier – Pastamusik
3. Trikk – Deviation 33 – Man Make Music
4. Gardens of God – Under – Ellum
5. Denis Horvat – Cougar – AEON
6. Quince – Europa – Something Happening Somewhere
7. Alex Niggemann – Divergent – AEON
8. Marco Resmann – Hundert – Upon You
9. Tale of Us – Silent Space – R&S
10. Andre Kronert – Into the Zone (Efdemin Remix) – Stockholm Limited
11. Alex Niggemann – Luminance – AEON

Soul Button @ Kater Blau – Meinis Secret Garden 11.10.2015


Soul Button – ADE 2015 Steyoyoke Showcase


Soul Button – Inner Symphony #010


Ran Salman (Live) – ADE 2015 Steyoyoke Showcase

All of the featured tracks are Ran's productions, including his originals and remixes.
* Tracklist *
1. Animal Picnic & Ran Salman – Mind Maze
2. Ran Salman, Omer & Shaked – Agressivo
3. Ran Salman – ID
4. Andrea Bertolini – Improvvisazione N*4 (Ran Salman Remix)
5. Ran Salman – Volcano Love
6. Einmusik – Azur (Ran Salman Remix)
7. Vangelis Kostoxenakis & Inner Rebels – Radux (Ran Salman Remix)
8. Nick Devon & Ran Salman – ID
9. Ran Salman – Träume
10. Ran Salman – Reflections
11. Ran Salman – Above The Clouds

Diynamic Radio Show October 2015 by Roberto Calzetta & Twin Soul

Recorded live at the Diynamic Showcase at Loveland ADE during this year's Amsterdam Dance Event. This set contains only their own productions, mostly unreleased.

Electronic Groove EG.545 Thyladomid (ADE Special)

1. Kollektiv Turmstrasse – Deine Distanz
2. Lum – Urpillay (Bedouin Remix)
3. Ost & Kjex Feat.Jens Carelius – Easy(Lehar & Musumeci Remix)
4. Hunter/Game – The Path
5. Anouka – Liberte (Midas 104 Remix) [unreleased]
6. Datametrik – Xenon (Original Mix) ??? [unreleased]
7. Tale Of Us & Mind Against – Astral (Original Mix)
8. Hunter/Game – Adaptation (Original Mix)
9. Daniel Stefanik – I Wonder [Unreleased]

Bespoke Musik- Baez – Live at Bespoke Musik ADE – 10.15.15

Lovely vibes by Baez including original production "Vulture of the Night."
01) Marbet Rocel – Love Me (Good Guy Mikesh & Filburt)
02) COMA – Borderline
03) Portable Sunsets – Straylight
04) Lum – Urpillay
05) Portable Sunset – Cloakmode
06) Stavroz – The Finishing (Powel)
07) Canson – Kamtschatka
08) Viken Arman – Rosas (Constantijn Lange Remix)
09) Feathered Sun – Hum Hum Hum
10) Christopher Schwarzwalder & Mira Berlin – Ayun
11) Cubicolor – Cage of Love
12) Cubicolor – Clime
13) BAEZ – Vulture of the Night

Amentia Live @ ADE Festival 2015 / CFA / Amsterdam

I'm a big fan of live sets, I think it's great to hear a showcase of one specific artist's works and hear lots of unheard material. Here is a liveset by Amentia at ADE, "A one hour performance by Amentia using a Nord Lead 2x, Elektron Analog Rytm, Nord Drum and Roland keyboard."

DUBELU – OOWLS PODCAST 013

Quite a few favourite tracks in this very nice ketahousey desert vibes mix by fellow Miamian Dubelu.

#SlamRadio – 158 – Efdemin

Darkish techno set on Soma's SlamRadio.

Smoke Machine Podcast 093 Etapp Kyle

Dl
This mix was from 2013, but I make the rules here, and occasionally break them. I want to share it anyway. >:) Deep, atmospheric, moody, slow techno-electronica, Very interesting. I love Etapp Kyle and this is a little different from what I'm used to hearing from him.

BUT WAIT, THERE'S MORE! 100+ mixes from October for you to poke through:
Tags: 16 Bit Lolitas • Alex Niggemann • Amentia • awesome mixes • Baez • Bedouin • Canson • Dubelu • Efdemin • Hernan Cattaneo • Javid • Luca Bachetti • Mashk • Nico Stojan • Nico Sun • Öona Dahl • podcasts • Roberto Calzetta & Twin Soul • Soul Button • Stephan Bodzin • Thyladomid • Top Mixes