DeeplyMoved's Top 25 Mixes of November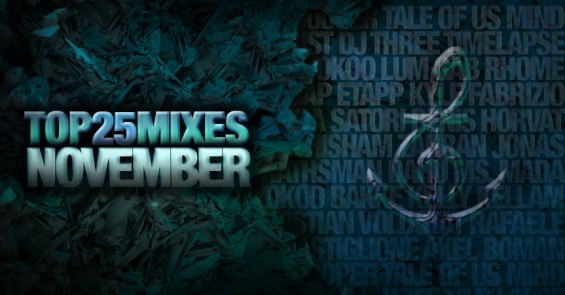 Max Cooper, Tale of Us [Boiler Room], Mind Against [Life & Death, ADE], DJ Three [Robot Heart, Burning Man], Timelapse [Akbal], Yokoo [White Ocean, Burning Man], Lum [Summit at Sea], Gab Rhome [All Day I Dream], Goldcap [Gotta Dance Dirty], Etapp Kyle [Electric Deluxe], Fabrizio Lapiana [Invite's Choice], Satori [live], Denis Horvat [AEON], Hisham Zahran [Anjunadeep], Jonas Rathsman, Okersounds [Babel], Dahu [Club Autonomica], Ms. Mada b2b Bakke [Timewarp], Kelly Kellam [Bespoke], Christian Voldstat [The Loft], Rafaele Castiglione [LET Zurich], Axel Boman [Mayan Warrior, Burning Man], Nico Sun [Klangextase]
Max Cooper – Resonant States – Mix


Downloadable
A really lovely set of all Max Cooper productions/remixes, including "some new unreleased work, a couple of pieces I wanted to bring attention to, like Attaque's amazing remix of Remnants, and some older work that's been featuring in my recent live sets."
1. Max Cooper And Tom Hodge – Remnants – Attaque Remix – Edit (Fields)
2. Max Cooper Feat. BRAIDS – Automaton – Ghosting Season Remix – Edit (Fields)
3. Landside – Still There – Max Cooper Remix (Just Music)
4. Max Cooper – Arc (Quotient Series)
5. Microtrauma – Circulate – Max Cooper Remix (Traum)
6. Max Cooper – Origins (Fields)
7. Max Cooper – Woven Ancestry – Olaf Stuut Remix (Fields)
8. Cream Sound – Sonata – Max Cooper Remix (Festival Lounge)
9. Max Cooper and Rob Clouth – Unreleased
10. Max Cooper and Alex Banks – Eve (Quotient Series)
11. Max Cooper and Tom Hodge – Resonant Expanse (Fields)
12. Remix to be announced
13. Max Cooper and Tom Hodge – Remnants (Fields)
14. Max Cooper and Tom Hodge – Teotihuacan (Fields)

Tale Of Us – 5 Years of Boiler Room (Berlin) – 05-Nov-2015

A stellar set by the always amazing duo.
01 [000] ID
02 [004] Scuba • All I Think About Is Death (Radio Slave Remix) [Hotflush Recordings]
03 [008] Tale of Us • North Star [R & S Records]
04 [014] Cryptik • Radiance [Figure]
05 [020] ID
06 [025] Woo York • Alien World [White Label] |Unreleased|
07 [031] Shlomi Aber • Street Works [Nonplus]
08 [034] ID |Prince of Denmark – Unreleased?|
09 [039] Tale of Us • Silent Space [R & S Records]
10 [044] ID |Recondite – Kain?|
11 [049] Tale of Us | Mind Against • Astral [Life & Death]
12 [055] Kiasmos • Swept (Tale of Us Remix) [Erased Tapes]


Mind Against @ Life and Death x ADE – Amsterdam, 17 Oct 2015


Though I don't normally like when the crowd is audible in recorded sets, I am really getting a kick out of hearing the crowd's enthusiastic reaction to the set for some reason, there's something special about the vibe when everyone is mentally present and in tune with the music together. I want to teleport in.

Akbal Music podcast 022 – Timelapse


Downloadable
Awesome moody set from the Italian duo Timelapse.

YokoO – White Ocean – Burning Man 2015


Downloadable
Another fantastic trip down memory lane from White Ocean, this time with YokoO leading the way. Lots of fun this was, lots of gems.

LUM @Summit At Sea


Downloadable
Deliciously slow, tribal influenced ketahousey vibes. Sooo good, chill and relaxing.
Humo Maya – Phylum Transformations
Fyrkat – Lulu Rouge [Stella Polaris Music]
LUM – Baaxal [Rebellion]
LUM feat. Huaira – Red Moon [Unrelease]
LUM – Certeza [Unrelease]
The/Das – Akimbo [Life And Death]
Oceanvs Orientalis – Lost in Venus [White Label]
Pupkulies & Rebecca – Saude (Mollono Bass remix) [Acker Records]
Nicola Cruz – Mantis [Multi Culti]
Multi Culti – Mushrooms on the Hill [Multi Culti]
Rampue – Schleimacherstrasse [Audiolith]
Shipibo – Chacruna [White Label]
LUM – Toé (Nu extended remix) [Unrelease]

Electric Deluxe Podcast 159 Etapp Kyle


I was eagerly waiting for Etapp Kyle to put out a new set, and this one is gorgeously moody, ethereal ambient techno. Really nice stuff.

Mezcla 24 / Milo Häfliger / Andante


Downloadable
Lots of ketahousey favourites in here from the likes of Ninze, Lum, Hraach, etc. Love these vibes.
Tracklist:
– Oceanvsorientalis – Fazil-say-black-earth-op-08-oceanvs-orientalis-touch
– Crosstownrebels – Lum-urpillay-1
– Vikenarman – Viken-arman-rosas-constantijn
– Hraach – Dle-yaman-ft-hraach
– Crosstownrebels – Lum-canto-de-la-tierra-1
– Meesdierdorp – Mees-dierdorp-libelles
– Izhevski – Gorje-hewek-izhevski-halcyon
– Sezeruysal – Mahmut-orhan-vesaire-sezer-uysal-remix
– Hraach – Eternal-soul
– Alexconnaisseurrecordings – 01-of-norway-feat-lois-its-you
– Bernstein – Babel
– Caleesi_music – Hal-ninze-caleesis-opium-edit
– Valentinstip – Hiathaikm

Milo Häfliger | Place De La République [004]


Very nice mood and selections on this mix.

ANDANTE Mezcla 25 / Mateo / Andante


Another great ANDANTE mix, with some great vibes from Mateo.

BABËL New York LETTING GO – Okersounds Vol. 008


Downloadable
The Okersounds Babel series is consistently really nice, and as before, the latest installment is another handful of shining deep and melodic gems.

01 Mano Le Tough – Energy Flow (Original Mix)
02 Damian Lazarus & The Ancient Moons – Adventures of the Ancient Moons (Original Mix)
03 isolée – Floripa (Original Mix)
04 Jonas Saalbach – June Gloom (Original Mix)
05 The Acid – Basic Instinct ( Trinity Tales Rework)
06 Gem Club – Braid ( Gorje Hewek & IZHEVSKI re-touch)
07 Jonas Saalbach – Ancient Lake (Original Mix)
08 Mano le Tough – Sometimes Lost (Original Mix)
09 Lukas Koch – For once (Original Mix)
10 Agoria – Panta Rei ( Max Cooper Remix)
11 Kiasmos – Swept (Original Mix)
12 Nick Warren – Devil's Elbow (Max Cooper Remix)


Satori LIVE- Día de Muertos, Oaxaca Mexico

"We played in some kind of old spanish church in the middle of the night. Because it was 'the day of the death' everybody was dressed like skelletons." That sounds really special, and the set sounds really fun. I want to be there.
Satori- Voices of Toeareg
Satori live set jam of Lucky love and Jin Choi and some baselines and arps
Satori Violleta Para remix
Acid Pauli Violleta Para remix
Satori Greatest Against the world
Satori livejam with Villalobos Enfants chants
Satori Boardwalk Fire
Satori Mercedes Sosa edit
Acid Pauli Tenhirt (Satori liveset remix)
Satori Zorro
Satori liveset jam of the edit of Acid Arab
Nu & Castelli – Natur (SATORI Remix)
Satori – Ya Mamaa
Satori Knocking on Door
Satori Bad Looking Trouble
Satori Sleep little baby
Satori live jam with parts of Aldhechen Manin and some baselines and arps
A violin from the balkan
Satori Imanis Dress
Sample of Dead Combo – Esse Olhar que Era Só Teu
Satori liveset jam with sample of Axel Krygler – Serpentea el Tren and some baselines and arps
Satori edit of Jon Hopkins Small Memory Thungg edit

DJ Three – Robot Heart – Burning Man 2015


Fantastic uplifting and psychedelic set from this super fun yet nearly Antarctic morning at Burning Man, by playa staple and master dancefloor vibe cultivator DJ Three.

Gab Rhome – All Day I Dream 2015


Lovely set by the "Farewell at the Gates of Dawn" conjurer.

Echoes Of October – ARDOR @ Open Sesame


Echoes of October are new on my radar, this is that deep, dark techno vibe and Ardor sound I just absolutely love.

01 Echoes Of October – UltraViolet
02 Tale Of Us – Northstar
03 Nina Kraviz – Ghetto Kraviz (Regal 303 Dub)
04 Cleric – Pressure Cabin
05 VII Circle – Unbroken (Locked Groove Remix)
06 Keith Carnal – Instantaneously
07 Alex Niggemann – Divergent
08 Radio Slave – Don't Stop (Tale Of Us Remix)
09 Echoes Of October – Confusion (Locked Groove Remix)
10 Max_M & Wrong Assessment – 1004A

AEON PODCAST 016 – Denis Horvat


Great high energy set including his latest, "Apart."
1. PROMO – PROMO – PROMO
2. Frankey & Sandrino – Fornax – Original Mix – Drumpoet Community
3. Echonomist – Divide Feat. Black Soda – Upon.You Records
4. DKA – No Hope – Original Mix – Amselcom
5. Daniel Bortz – Don't Forget Your Sword – Original Mix – PROMO
6. GoldFFinch – Passenger – Original Mix – Exit Strategy
7. Denis Horvat – Apart – Original Mix – AEON
8. Trikk – Deviation 33 – Locked Groove Remix – Man Make Music
9. Sterac – Stroke 3 – Original Mix – Mote Evolver
10. Etienne Jaumet – Metallik Cages – Gilb'r Bonus Beats – Versatile Records
11. SB – According To – Original Mix – Something Happening Somewhere

Systematic Session 299 with Namito


Really nice mix for Marc Romboy's Systematic Session series.
01. Namito & Brams – Temple Of Sun / Systematic Recordings
02. Habischman – The Moment (Soul Button Remix) / Steyoyoke
03. Ost & Kjex – Easy (Lehar & Musumeci Remix) / Diynamic
04. Namito & Brams – Yto / Systematic Recordings
05. Melon – Air (Gui Boratto Remix) / D.O.C.
06. Echoes Of October – Confusion (Locked Groove Remix) / ARDOR Music
07. Tale Of Us – Silent Space / R&S Records
08. Agoria – Independence (Architectural Remix) / Ellum
09. Andre Lodemann – Between The Notes / Innervisions
10. Wehbba – View Of Delft / Systematic Recordings

Jonas Rathsman E L E M E N T S | Mix Series Episode I


This excellent mix had me scrambling for my phone to Shazam quite a few stellar tunes, the highlight being Jonas Rathman's stunning "Conium."

Erik Luebs – Farewells [PROJECT MOONCIRCLE]
Booka Shade – Wildest Thing [BLAUFIELD MUSIC]
Joe Ashworth – Puma (Dub 12" Mix) [NEED WANT]
Maribou State – Wallflower (Simona Drive Remix) [COUNTER RECORDS]
Luis Junior – La [KX] (UNRELEASED)
Clarian North – Absence [RUMOURS] (UNRELEASED)
Vessels – Elliptic (Alex Banks Remix)
Jonas Rathsman – Conium [KX]
Tom Demac – Dave Saints
Few Nolder – One (UNRELEASED)
Paneoh – The Cliff [HOT FLUSH]
White Square – Nightrain (UNRELEASED)
Rennie Foster – Good Time Charlie (Claude Young Remix) [RF]

Invite's Choice Podcast 313 – Fabrizio Lapiana


Downloadable
Techno set on the reliably excellent Invite's Choice podcast series.

The Anjunadeep Edition 78 With Hisham Zahran


A lovely set embodying that uplifting Anjunadeep sound.

Ms. Mada b2b Bakke at Time Warp US (21-Nov-2015)


Excellent B2B techno action from Link Miami Rebels residents Ms. Mada and Bakke.

Goldcap – Gotta Dance Dirty Guestmix (10 – 28 – 2015)


Great mix with a lot of exotic-influenced and playatech vibes, with tracks from YokoO, Lum, Miajica, Davi, etc.

L.E.T. Podcast # 28 – Rafaele Castiglione ( Amselcom )


Lovely vibes, great mix.

Club Autonomica "In the Mix" Podcast #35 by Dahu (Steyoyoke)


Excellent moodier selections.

Yokoo – Satya Stefan Z – Kneedle (Jon Charnis Interstellar Edit)
Sahar Z – Side Caution(Instrumental)
Pisetzky – Off The Map (Original Mix)
Alex Niggemann – Virgo (Fur Coat Remix)
ID- ID
Marcus Meinhardt – Felecity (Dahu Remix)
Bedoiun – Metaphor

Bespoke Musik Radio 033 : Kellam


Great energy in this fantastic addition to the Bespoke Musik Radio series.

Christian @ The Loft (Brooklyn, Nov 2015)


Lovely tunes in this very nice set.

Axel Boman – Mayan Warrior – Burn Night – Burning Man – 2015


Downloadable
Axel Boman's high-energy Mayan Warrior set post man burn scored the soundtrack for one of the most fun and vibrant parties on the playa… we can again enjoy the sounds of shenaniganery via this Soundcloud set.
Watch the video of the Axel Boman – Mayan Warrior Burning Man set on Vimeo.

Nico Sun | Karavan | www.klangextase.de


I'm a big fan of Nico Sun's ketahousey vibes and tribal percussion, this is another quite nice set.

DeeplyMoved – Summer 2015 Anthems – Mixed By Gilles Wasserman


The anthems defining Summer of 2015, mixed excellently by NY's Gilles Wasserman.

Need more delightful musiq? Check out our playlist of our favourite 100 remixes for the month.


Tags: awesome mixes • Axel Boman • DJ Three • Etapp Kyle • Lum • Max Cooper • Mind Against • Nico Sun • Tale of Us • Top 25 mixes • YokoO