DeeplyMoved's Top 25 Mixes of January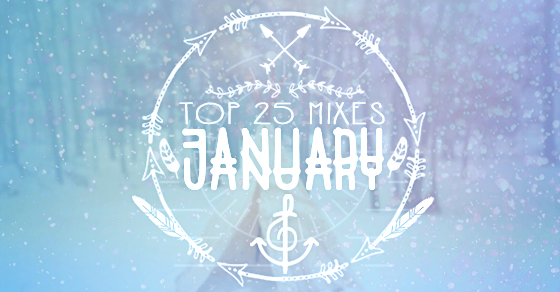 My selections for January were pretty heavily influenced by being immersed in Tulum for the entire month. Expect hypnogrooves, ethnovibes, tribal jungle percussion, middleasterny exoticism, mystical shamanica, and more of the sort. And lots of invented portmanteau genre descriptors, courtesy of me, for my own classification/amusement.
Lum [Mixmag Lab], Jon Charnis [Robot Heart], Sabo, HVOB [Further Future], JAVID [Urban Cosmonaut Radio], Wide Awake [live, Laut & Luise], Niju [Festival Nomade], Nicola Cruz [Comunite], Oceanvs Orientalis [Mixmag Lab], Surreal Flight [Do Not Sit on the Furniture], Hands Free, Moosefly, berlin cocktail bar [Hello Strange], Batu Ozer [Métron Musik], Robin Dey [Kentaur Podcast Sagas], Leichtigkeit Des Seins [Urban Cosmonaut Radio], Nadia Struiwigh, Gabriel Belmudes, s a n õ j
Urban Cosmonaut Radio – UCR #015 by JAVID

Blown. Away. That's what happened to me when I listened to this the first time, the second time, and the 300th or so time. Ethno-hypnotic grooves and slightly trippy tones of melodic melancholia. There's not a single dud production in here that doesn't stun, every moment of this journey is captivating and engrossing. Incredible. Also, you need to listen to his Travel Diary (Part 1).
Tracklist:
00:00:00 ••• Javid ••• Planet Earth Intro (Edit + Variations)
00:11:00 ••• Javid ••• Interlude 1
00:14:30 ••• Javid ••• Interlude 2
00:18:55 ••• Javid ••• Untitled
00:23:30 ••• Javid ••• One Thousand And One Nights
00:27:00 ••• Javid ••• Short interlude – Revelator (Edit)
00:28:00 ••• Javid ••• Cairo Blues
00:32:30 ••• Javid ••• Untitled + Youssef (Edit)
00:36:35 ••• Javid ••• Tanganjika
00:40:30 ••• Javid ••• African Interlude 1
00:42:00 ••• Javid ••• Untitled + Edit of African recordings
00:49:00 ••• Javid ••• African Interlude 2
00:50:20 ••• Javid ••• Serendipity
00:55:00 ••• Javid ••• Untitled
01:02:00 ••• Javid ••• Untitled
01:05:00 ••• Javid ••• African Interlude 3
01:07:45 ••• Javid ••• Untitled + Variation + Edit of unknown arabic vocals
01:15:00 ••• Javid ••• Untitled (Persian poem spoken by Nariman Hodjaty)

Montagssorbet mit Laut & Luise – #045: WIDE AWAKE *live

Wide Awake is the composite effort of Ninze, Okaxy, and Niju, all stellar producers individually so it's no surprise that the fruit of their collaboration is this amazing. Beautifully trippy, moodily mesmerizing, a perfect soundscape to float away in. Ketapop poppin'. Repeat repeat repeat.

LUM Ethereal Originals In The Lab NYC

Incredible Mixmag lab set of perfectly Tulum vibes, slowly flowing through tribal-inspired percussion and reminiscently ethnovibe elements of musical shamanism.
Tracklist:
Canto de la tierra (Nuestro canto)
La Reina Roja
Luna (awoGoyk)
Respira
Monlam
Baáxal
Luna Roja feat. Huaira
Certeza
La Salud de Mundo
Plegaria
Dionysus (Bedouin/LUM)
Toé (Nu extended remix)
Urpillay
Canto de la Tierra (Origina Mix)

Jon Charnis – Robot Heart – Burning Man 2015

Amidst dusty blinding gales, after every last dwindling trace of the sun's warmth had starkly dissipated from the frigid, sub-arctic desert night, Jon Charnis orchestrates a tale of burner spirit undefeated by the unforgiving harshness of the playa, with deep, melodic, and subtly trippy selections perfectly capturing the mood for the moment in this absolutely phenomenal set aboard the Robot Heart bus.
(Accepts Pulitzer Prize for best electronic music set description prose)

OCEANVS ORIENTALIS Live @ the Mixmag Lab NYC

Deep and hypnotic yet dancefloor-oriented grooves channeling ethnovibes.

Nicola Cruz Comunite MIX – 13 / 01 / 2016

Upbeat, often jaunty rhythms heavily influenced by an array of worldly instruments, varied energies occasionally slipping briefly into broken beat. A fantastic kaleidoscope of energies.

Sarah Myers Hooked Podcast 033 :: HANDS FREE

Deep, moody grooves with darkly deluminated undertones. Dig the vibe on this.

berlin cocktail bar – hello strange podcast #160

Disclaimer, I don't listen to much dub techno. But I stumbled upon this and was drawn in to a state of near hypnosis by the silky, ethereal atmosphere, slowly unfurling rhythm, and textured percussive detail. Really quite gorgeous, super relaxing and loungey. I rinsed this for nearly a day straight.
Tracklist:
Intro
Heavenchord – Spring Rain (will soon release on our label)
Mark Ward – Kicking Up The Leaves (will soon release on our label)
Mark Ward – Rainy Dub (will soon release on our label)
Vejopatis – Dvieju Svajone
Focus on the Breath – You Were There
Heavenchord – Meta Connection
Space Scavengers – Sciential Dub
G.R.I.T. – As I Look To The Sky From The Surface Of The Water
Mark Ward – Beacon, For Marissa Disquit0204 – Underbeat
Slownoise – Silent Wilderness
Moz Design – Zone Of Inaccessibility ( Feat. CTRT )
Twin Peetz – Pause'

Further Future – HVOB Further Future Exclusive Mix

Gorgeously emotive sultry vocals, melodies running the gamut from broodingly dark to bouncily upbeat. This is a promotional mix for Further Future festival. I am going to go and I will wear something shiny.
Tracklist:
1. HVOB – Turn a Rope Round Its Axis
2. HVOB – Ghost
3. HVOB – Window
4. HVOB – Window (Acid Pauli Remix)
5. HVOB – Window (Gui Boratto Remix)
6. HVOB – Oxid
7. HVOB – Tender Skin
8. HVOB – Azrael
9. HVOB – Clap Eyes
10. HVOB – Cool Melt
11. HVOB – Azrael (Pillow Talk Remix)
12. HVOB – The Anxiety to please
13. HVOB – Attention


Kentaur Podcast Sagas – On A Trail Of Fabels – Robin Dey – Episode #001

Deep, slowly rolly hypnogrooves.

Tulum Come Down – Sabo

Cushioning the descent back into reality from the idyllic daydream that is Tulum…
Tracklist:
1. Intro – (Shamanic Journey / Ancient Spirals Flute Solo )
2. Violet Lullaby (feat. Coppé) – Sannan
3. Ondas de Sonido – Jess & Jess
4. Plastic Dreams – Cesar de Melero / Mr Claude
5. Trailer – Canson
6. Bab – I Ali – Oceanvs Orientalis
7. La Fuerza – Barda
8. Guajaca – Chancha Via Circuito
9. Fly With Me – Benn Finn
10. Sueño en Paraguay (El Remolón ft. Ale Ortiz remix) – Chancha Via Circuito
11. Tecolotin – El Buho
12. Booty Call – Bloody Tadi
13. Groove Is In The Heart (feat Bob Farrel & Debora Danger) – Cesar de Melero / Mr Claude
14. Barfuss Bravo (Caterkarlos Remix) – Timboletti
15. This is Tulloch Not Tibet, Pal – Perth Drug Legend
16. Jardines feat. Lido Pimienta (Nicola Cruz Remix) – Chancha Via Circuito
17. Montame En La Tormenta – La Mecanica Popular
18. Slave To The Rhythm – The Peanuts
19. Am Fenster – Bjarno
20. Aguavivas – Bonnie & Klein
21. A02 – EXZ
22. Jungle Level – Peter Power
23. Mexican Magarita (Tonovi remix) – Jacob Gurevitsch
24. Schleiermacherstrasse – Rampue
25. Out Of My Head – Girls From Venus
26. Ecstasy – Dr. Packer
27. Yulunga [Spirit Dance] (Peter Power Edit) – Ufordia
28. Chamada – P.r.Λ.Λ.h.
29. Sometimes I Feel It – Spacetrilla
30. Araucária Que No Llores – Spaniol
31. Nomads Night Owl – Ninze
32. Pintar El Sol (Chancha Via Circuito Remix) – Miriam Garcia, Alicia Solans
33. Outro (Shamanic Journey / Jungle Rain Field Recording )

moosefly 2016 Kickoff Mix

Varietal assortment of audiologically diverse auronic techy escapades with implicitly discerning Moosefly-oriented denomination.
\dVWVb/ —it's an ASCII moosefly
(you have to squint)

Métron Musik Mixtape – 010 – Batu Ozer

Middle-eastern-vibey grooves and melodies. This mix in particular seems to be mastered really nicely, sounds really nice on my monitors. I'm having a danceparty for one and trying to turn it off so I can move on to the next mix but I'm having a difficult time extricating myself.

Surreal Flight warm up for NU & Birds of Mind at Do Not Sit on the Furniture, Miami Beach 01.09.16

2.5 hours of surreal piloting for the Miami duo.

Urban Cosmonaut Radio UCR #014 by Leichtigkeit Des Seins

Innerspace cosmonaulogism. Also I discovered my New Favourite Thing for today, Rasar – "Dolores," which is actually an Old Thing, but New to me.

Gabriel Belmudes – SELVA (On my way to Brazil Mix)

I just realized this is from Novemeber and not January. Shit! I already typed this out and formatted all the CSS and I don't feel like deleting it! Ha! Try and stop me.
Tracklist:
Dikanda – Ederlezi (Azamat edit)
Nicola Cruz – Colibria
Ninze – Sylvia
Nu – LOVE E
LUM – Plegaria
Chymera – Fathoms (Esteble dive deep remix)
Dialogue – Sorry Eyes (Canson so so sorry remix)
Hraach – Die Yaman (116 deep mix)
Rasar – Lost in autumn
Christopher Schwarzwalder, Mira (Berlin) – Ayun (Jonas Saalbach remix)
Mollono.Basss – Desire

Niju MixTape – Festival Nomade

Chillaxy rhythmic sonic vacay.

s a n õ j concepts

"unmastered unfinished quickly mixed up projects". I like mixed up things sometimes. A fun listen.

Nadia Struiwigh – Perspektives#4

Very interesting electronikascapes.

But wait! There's more! There's always more.



"It is good," she said upon reaching the end of the post. And indeed, it was good.
"This is great music journalism," someone somewhere declared, nodding in agreement. "Yes, exceptional," some other person definitely agreed. And a second Pulitzer Prize was awarded.

Tags: ketahaus • ketahouse • mixes • podcasts • Robot Heart • Top 25 mixes • Tulum