DeeplyMoved's Best Parties of Miami Music Week / WMC 2015 and Party Diary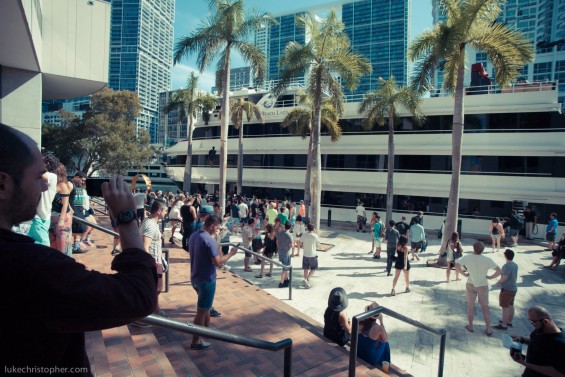 It's no surprise to anyone that this year's Miami Music Week was one of the most incredible this city has seen yet, with a seemingly endless array of prime parties that was sure to leave most having to choose between multiple top choices, almost certainly resulting in at least a few serious episodes of FOMO. The current awesome underground music scene in Miami, having blossomed over the past few years due in part to being bolstered by Beck's Access as well as the proliferation of event creators like Link Miami Rebels, SAFE, PL0T, UN_MUTE, Minimax, and others bringing in top artists, played host to a multitude of events for all tastes across the underground spectrum at local favourite venues like The Electric Pickle, Trade, Do Not Sit On The Furniture, and Treehouse, to name a few. Wynwood warehouse parties, yacht parties, and daytime pool parties also abound this year. Really, no shortage of awesome parties unless you hate music and were deliberately trying to avoid fun.
With DeeplyMoved headquarters recently and conveniently relocating its secret underground lair to Miami just in time for the week-long celebration of music discovery and debauchery, I set out to experience and document the bacchanalia and its accompanying soundtrack, and ascertain which of the parties attended were, in our opinion, the absolute best.

Wednesday, 3/25
Bright-eyed and bushy-tailed, I made my way to The Electric Pickle for "Beatport and the Electric Pickle Present Scissor and Thread: Miami Stories" (being just a stone's throw from my new base, I had a feeling I would soon be haunting this famed venue, and as the week progressed, I was right). Frank & Tony played their exclusive MMW set here, getting it going with their characteristically deep and sexy grooves. Their sound is always such that you can close your eyes and just disappear into your own blissful headspace while you lose yourself to the dancefloor. The night also marked Bob Moses' Pickle debut, and seeing them perform in such an intimate venue was a special treat, having seen them numerous times at festivals and large spaces. The charisma of Tom Howie, being something of a deep house rock star, and Jimmy Valance's ferverous intensity while playing make their performance always as much a spectacle to watch as an absolute joy to hear. The connection with the crowd was evident, as they sang along to gorgeous favourites as well as newer material.

Thursday, 3/26
BEST POOL PARTY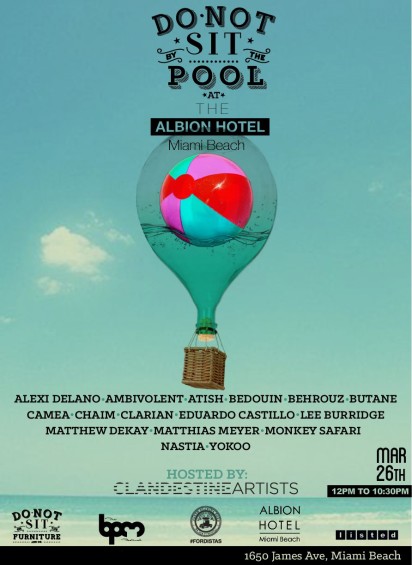 The Do Not Sit By The Pool party was one of the most heavily anticipated day parties of the week, with an absolutely stellar lineup advertised: Alexi Delano, Ambivalent, Atish, Bedouin, Behrouz, Butane, Camea, Clarian, Eduardo Castillo, Lee Burridge, Matthew Dekay, Matthias Meyer, Monkey Safari, Nastia, and YokoO. All Day I Dream and chill West Coast-style burner vibes prevailed here, making the crowd one of the friendliest and happiest groups of music loving souls to be found at WMC, and it's evident in the beautiful and colorful photos where smiles abound.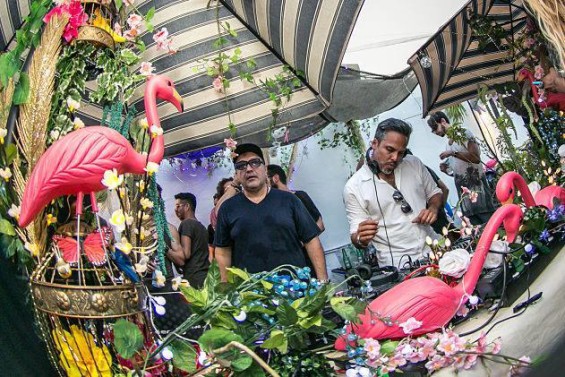 Photo credit: the spectacular Guillermo Montero
The event commenced early with a poolside yoga session, setting the tone for the party. The dancefloor decorations were a nice touch, with flowers and flamingos adding a touch of whimsical eye-candy, and a special punch available. All of the sets were stellar, but in particular Atish and YokoO played a B2B set that had people buzzing for days.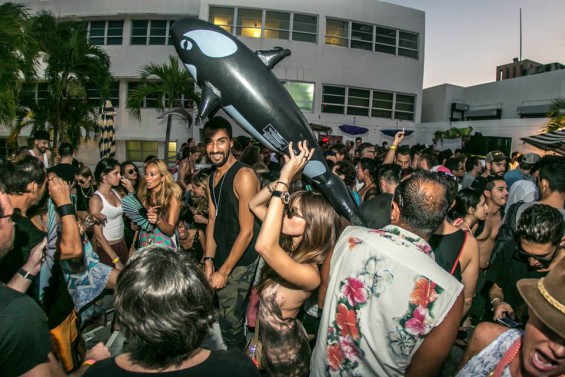 Photo credit: Guillermo Montero
Everyone who attended this party remarked on how special and different the vibe was, and despite being on South Beach, for the day we were transported to a beautiful oasis of exceptional music among kindred souls.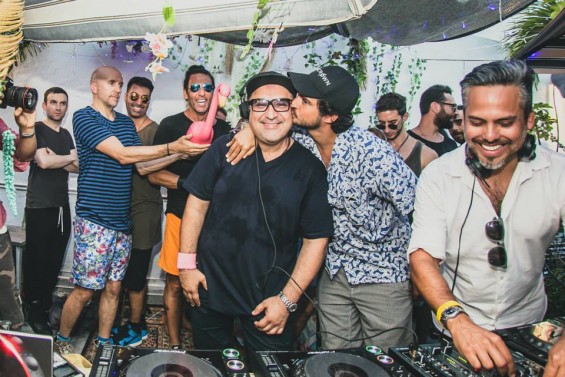 Photo credit: Guillermo Montero
FRIDAY 3/27
First incidental stop was Red Bull Guest House for the Beck's Access Launch party, where free Beck's, Occulto and Red Bull flowed freely to masked partygoers not deterred by the rain, which pushed people into the indoor area on the rooftop.
South Beach venue Trade is a lot of fun when both the upstairs and downstairs rooms are open, as it was during WMC, enabling partygoers to cycle through a change of scenery as needed. With the Maeve boys killing it downstairs and Ellum destruction above, it was often hard to decide where exactly to stay. The Link Miami Rebels crew has been nailing it in bookings and really upping the ante in the local scene, and their WMC offerings such as this one did not stray from that awesome trajectory.
Back to Red Bull Guest House for Breakfast Club, where Tennis played in a lobby-type area, and gratuitous energy beverages again prevailed.
From here I head across the bridge back to Wynwood, and the 24-hour madness that is Get Lost is beginning at 5 am.
Saturday, 3/28
BEST DAYTIME PARTY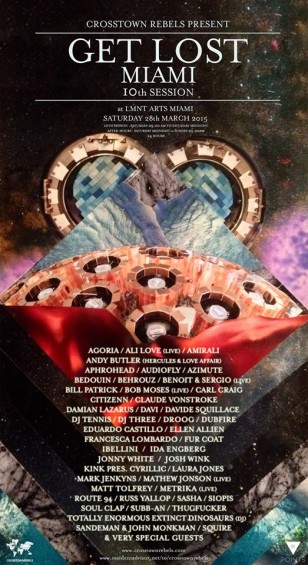 Taking place this year at LMNT, Crosstown Rebels' annual revered party Get Lost utilized the multi-room venue by having a large outdoor stage, two indoor stages, and yet another area of sound in the back alley. The lineup was phenomenal. The large outdoor area was decorated with large Persian rugs utilized by those wishing to sit, ornate golden Victorian chairs and sofas. Indoors, the two rooms made for a really interesting experience, with the studio room a dense, colored fog, and the other room a pitch black rave cave with colorful lasers and butterflies on strings. There was also a chillout/cuddle puddle looking sort of room which I also did not venture into beyond poking my head in the door. I didn't spend much time in the alley as the music there was not up my particular alley. The crowd attracted to this event was very chill and cool, free of the annoying touristy rager types that make the South Beach venues frustrating. Food from Gigi's was available for purchase. The on-site food and sleepable room really enabled people to fulfill any basic needs to survive through the full 24 hours (the restroom situation needs to be improved in the future, however). After the main event, the party continued with Wizardry, an indoor afterhours featuring Three, Damian Lazarus, and Art Department in the darker room, and an incredible extended Bedouin set in the studio.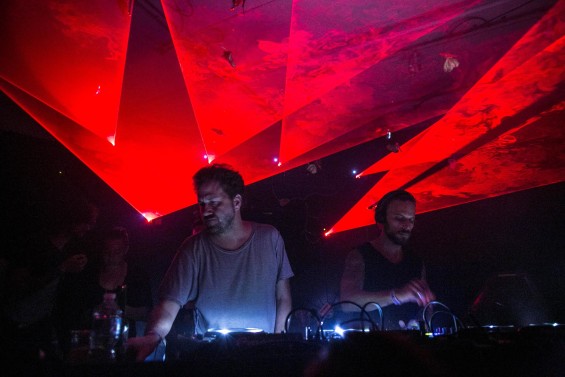 Overall, this was a super fun event, cool crowd, great music, and definitely one of the highlights of the week.
Sunday, 3/29
BEST BOAT PARTIES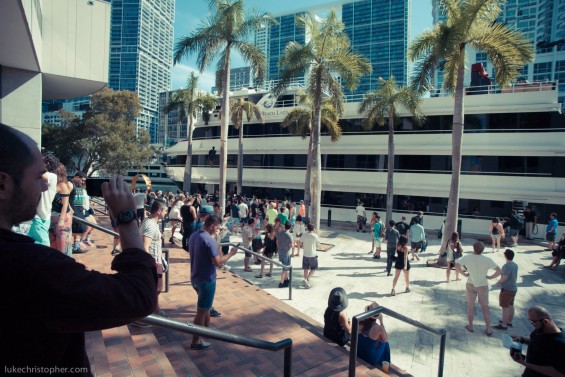 First stop of the day is to the Hyatt Regency for Life and Death: An Ocean Affair where the South Beach Lady yacht will whisk us away to the greater blue expanse that will serve as our party setting, traversing a narrow and scenic corridor of iconic skyscrapers en route. Limited to just an exclusive 300 people, the multi-story yacht is far less crowded than it normally is, making for an optimum party experience. A novel pairing, James Murphy and Nancy Whang of LCD Soundsystem/DFA are slated to play alongside Life and Death fixtures Tennis, Tale of Us, and Thugfucker.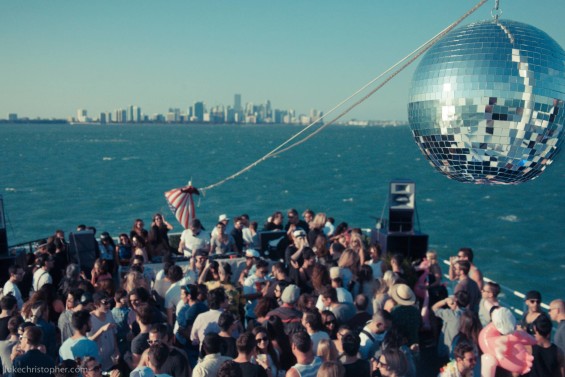 The vessel is prepared for the sonic journey, equipped with Funktion-One audio. Jame Murphy kicks it off with chill vibes on the open top deck in the Miami sunshine, and shortly thereafter Thugfucker gets it going on the 2nd story bow, an area that is a bit undersized to accommodate everyone who wanted to partake in that moment. Top deck, Coconut Cartel is distributing the coolest cocktails I have ever seen at a party- the Life and Death decapitated bird insignia is cauterized into the coconut shell, rum is poured in, and a techno-black umbrella garnishes the final (delicious) product.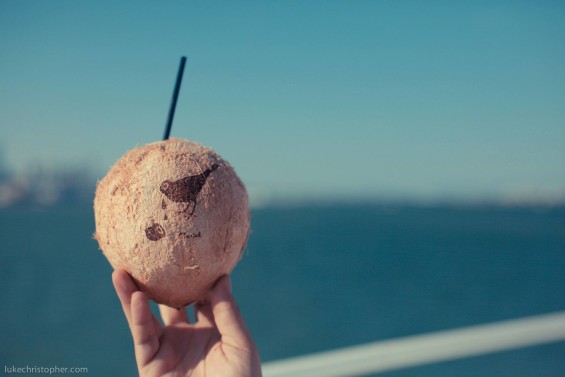 The dancefloor energy picks up as Tennis takes the helm, the Miami skyline providing the visual backdrop over azure blue waters. Finally, an almost unreal, spectacularly colored sunset abets Tale of Us' transition into darkness, from both an atmospheric and musical standpoint, as they close out the amazing cruise with a killer set.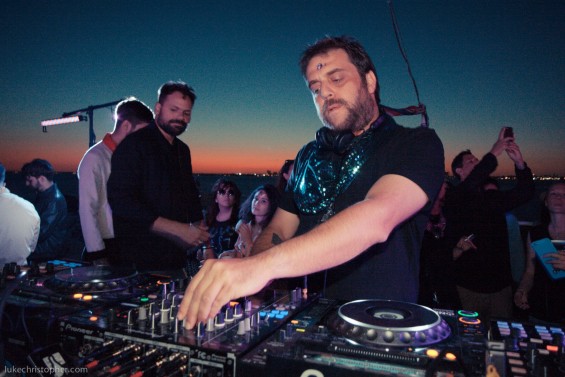 Back on the bow, Nancy Whang plays an intimate set to a small but appreciative group. The crowd and their vibes, the stellar music, and general execution of the event make this a boat party to remember, and compare others to. Pl0t, UN_MUTE, III Points, and Beck's Access powerage made this cruise happen.


I didn't personally attend this event, but the hype leading up to, and glowing social media onslaught thereafter, make the Ship of Fools presented by Listed hard to overlook. Set aboard, again, our favourite Miami party boat the South Beach Lady, the lineup was excellent featuring M.A.N.D.Y., Cassy, Doc Martin, Three, Siopsis, YokoO, Bedouin, Mighytkat, Mia Lucci, Danny Fry, and Nikita. Boarding in darkness at 5:30 a.m., this sunrise boat party also had a morning stretch session from Techno Wellness Center. If there is any doubt as to the veracity of how legitimately solid of a party and how genuine the vibes were, a cursory search of social media will reveal endless photos, videos, and posts in agreement, probably more solidarity than any other WMC party I have seen yet. Ship of Fools has a loyal following and it's easy to see why. The FOMO was strong with this one for me, and I will absolutely be in attendance next year.
BEST CLOSING PARTY
Presented by Embrace, SAFE, and Liason Artists, the crowning glory of WMC Last Resort is always an epic finale to the week, boasting an absolutely stacked line-up. This year's was advertised as: The Drifter, Detroit Swindle, Hunter/Game, Anja Schneider, Catz n Dogz, Danny Daze, Maya Jane Coles, Jackmaster, Ben UFO, Mano le Tough, Dixon, Maceo Plex, and Thugfucker. Set at Mana Wynwood, the event had one stage, downsized from last year's at Ice Palace. This was another Beck's Access powered event, and related brand Oculto had their girls passing out free Oculto beers which, of course, was awesome.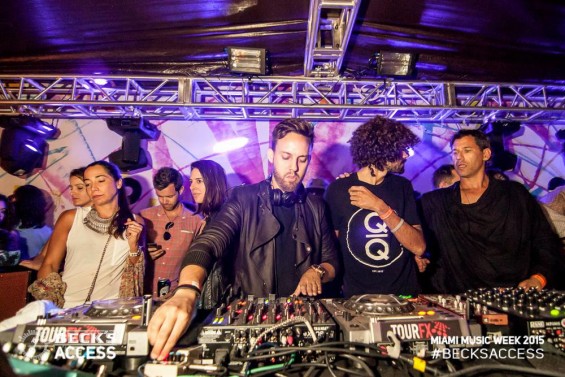 Tags: events • Miami Music Week • WMC