DeeplyMoved Guest Podcast: DeeplyMixed//005 – Francys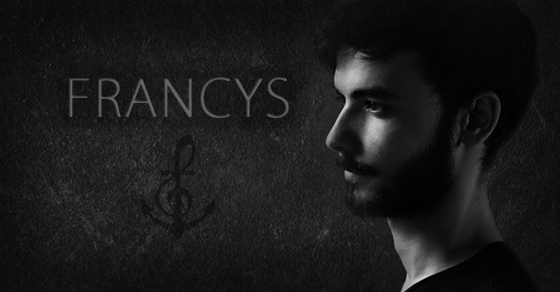 Immersed in the passion of production and DJing from age 14 onward, Italian native Francys had a series of releases before being coined "one of the most promising newcomers these days" by Aeon boss Alex Niggemann. Francys lives up to this assertion with his latest dark and melodic EP "Different Shapes," featuring the dramatic strings of "Nibiru," the haunting melody of "Arcenciel," and the eponymous "Different Shapes."

"Different Shapes" on Beatport
Ever curious on his budding career, we catch up with Francys to find out more:

You are fortunate to have the advantage of finding your beginnings in this arena at such a young age. How did you manage to wander into the world of electronic music at 14?

Basically I fell in love with electronic music going out dancing in some clubs of my little hometown,
of course I was really young and everything for me was completely new. I was totally caught by that music and that atmosphere, so I started my approach to electronic music, listening and buying lots of records and playing turntables in my garage with my friends. It was very natural for me. I put my hands on a sequencer for the first time around 15 years old, and I remember I started to upload my first and very simple beats on Myspace, and with big surprise I was suddenly contacted by some record labels that were interested to listen to and release my stuff.

From your earliest releases on to your most recent, how would you describe your ongoing evolution of your sound?

I love music and when I say that, I mean 360° of music from jazz to hip hop, from RnB to techno and house music. I think the evolution is one of the most important part of my personality as artist since my sound is constantly evolving, but always keeping that personal matrix that identifies my style. When people ask me which genre of music I make, I can't really give an answer since every single influence from my background redraws my sound each time I make a new project. My first releases were more old school oriented, drums and synths were really raw and tracks were layered into a lot of channels. Now I'm bringing things more into a minimalistic perspective, giving more attention on each sound and creating my concept, moving the arrangement through my dark ambient textures in a 3D space, in that way the listener can really have a journey into my music tale.

What upcoming projects are you working on now, that we can look forward to hearing?

Actually, I'm working on lots of things, preparing my first album as well
where I'll try to make a synthesis of my whole music sphere. I'm also working on some remixes and parallel projects; I'm still working with my friend Alex Niggemann on his label AEON where I
released my latest two eps "Memories" and "Different Shapes", Alex really helped me find the right space and direction for my sound by constantly supporting my music.

One more thing… tell us something about Francys we don't know yet.

I'm addicted to unboxing videos on youtube… I know maybe it sounds trash… but it just relaxes me.
I also suffer from vertigo but I live at 13th floor of a building in the middle of Kreuzberg in Berlin… funny isn't it!

Francys showcases his uniquely diverse and interesting approach to cultivating a sonic experience in this podcast, which includes his own productions including "Nibiru".
Linkage: Francys Beatport // Francys Soundcloud // Francys Facebook
Tags: Aeon • DeeplyMixed • Francys • mixes • podcasts