DeeplyMoved Guest Podcast: DeeplyMixed//004 – Mashk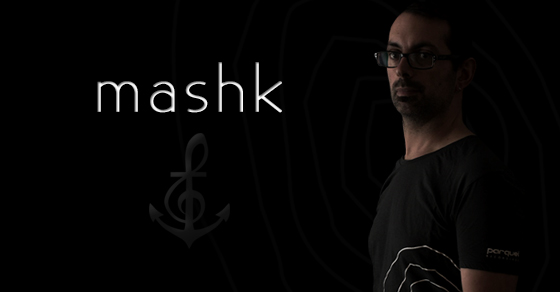 As a pianist since age 5, and professor of music theory and saxophone player from 18 onward in Paris, the influence of French producer Mashk's extensive musical background is pervasively evident in his melodic approach to dance music and totally unique sound. Right at home on Solee's label Parquet Recordings (one of our favourites), he has woven such gorgeous and emotive tracks like "Home" and "Last Breath," and more recently has released his debut 17-track album, the aptly-named "Melodies."
This mix is a rich tapestry of emotion, including new original productions from the "Melodies" album such as "Hermes," and "Danke Normen F," and others; his gorgeously twinkling "Home"; and also Recondite – "Garbo" (Original Mix), Matthew Dekay – "Fangtango" (Original Mix), and Florian Rietze – Treibhaus (Mpathy Remix).
We had a few curious questions for him, below (partially translated from French):
Your tracks have a vibe of a particularly dreamy moodiness to them, with incorporation of some really lovely and melancholic feeling elements. Where do you draw inspiration from for your unique sound?
Very good question. I am always connected with my deepest feelings, my mood or my feelings of the moment, a sentence (book or other), a meeting, an exchange, a person, a trip, thoughts, souvenirs, movies… everything that surrounds me and makes me feel that life is wonderful/beautiful or that makes my life better or that makes me happy.
Music is part of me, it's like a confidant. It can express what words can not say… it is the extension of my thought.
I am always looking for refinement with something ethereal (as Hergé was able to do in his research for the clear line). I have an almost mystical approach (the word is too strong), a link between what escapes from us and reality. I try to reach/approach the melody and the harmony in a poetic sense; I try to reach a poetic feeling in my melody and harmony. I would like to touch the beauty with what is impossible, but I do not give up. Sound material as such is essential (timbre, tone color), as is my approach to rhythm and polyrhythm.
As a classically trained musician, how did you transition into electronic music production?
Indeed. I am a musician with a "classical" & jazz formation but I have always played something else and I have always been interested in other music.
I've been composing since my childhood. I have always hated being locked up in a particular style. Electronic music came just as naturally (childhood memories with Jean-Michel Jarre certainly). At one time you feel the need for introspection, alone with your music and having your own musical project, as if it was written. Then, there is a part of luck and opportunities too: a friend who advises you to send your songs to labels, and soon a positive response from Solee and the beginning of a new musical adventure. Suddenly, you wake up one morning, finding out that you make your own way ! as if it was something… everything was written. As if it was obvious that this is the way there he had to follow.
When you create something, you always doubt everything, not because you are wondering whether people would like it or not, but whether you are on the right path or not.
"Melodies" is quite the collection, featuring all your past work (along with Whomi's dancefloor bomb remix of "Home" and Solee's take on "Last Breath"), as well as 6 new tracks. Can you tell us a little about this album?
This album is really the result of my work of the last 2 years. Solee chose to make an album. As always, as soon as I have finished a song, I sent it to him. The first time he asked me what would I think if we did a remix by him, then few months later he offered me to make a 2nd EP with a remix of an artist's label (Whomi), and after 2 years, he told me he wanted to make an album including my songs. What could I answer to that except YES, I'm IN ! Sometimes, I feel like that I'm living in a wonderful dream.
Any interesting upcoming projects in the works we should know about?
I've just finished a remix for John Sparks, and I am trying to write a lot of music mixing acoustic instruments and programming, following a piece performed in concert last week in this formula with my musician friends.
Who knows what the future holds in store for me!
To conclude, I would like to thank Solee to whom I owe a lot for his confidence, kindness, but also people who support my music, my family and my friends.
One last thing: for my track Home and for the music video, if you wanna take part in it, take a video of yourself (or with your GF/BF or who ever) in front of your Home or in front of a place you care about and that you call "Home". You will have to make a sign (hello, a heart, a sign of sharing and caring…), feel free to do whatever sounds good to you. You can use your cameras, phones, etc and send me the videos in private message (if the video is heavy send it to me with a wetransfer link).
Thanks a lot Mely & Deeplymoved.
Linkage: Mashk Beatport // Mashk Facebook // Mashk Soundcloud // Parquet Recordings Soundcloud
Tags: DeeplyMixed • Mashk • mixes • Parquet • podcasts