DeeplyMoved Guest Podcast: DeeplyMixed//003 – Ominous (Jonny Cruz)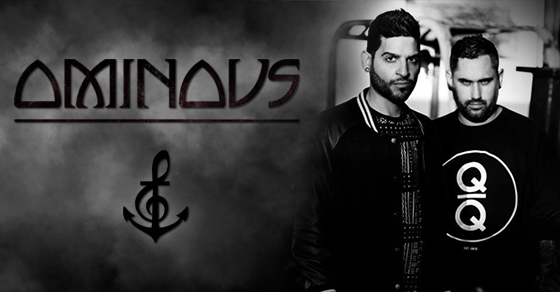 Jonny Cruz (disCerN) is a name well-known for his fruitful production career with many releases on labels such as Touch of Class, My Favorite Robot, Aeon, Soulfouled, Faceless, etc. But ever-seeking to push the envelope beyond DJing, Jonny Cruz has paired up with musician Ricardo Dominguez (City Living Productions) to embark on a new live project endeavor. Along with this podcast showcasing the Ominous vibe, DeeplyMoved asked a few questions to dig a little deeper:

Ominous is a new live project you started relatively recently. Tell us a little about it, and how would you describe your sound?
Good question, basically I have been doing my own thing musically for a while with a string of releases on a lot of labels. The earliest musical project I ever was a part of was actually a band, I lived in Venezuela for a few years when I was 14-16 years old and there I learned how to play guitar with my best friend at the time and we started a little band called Histeria; it didn't last long and we never really got the chance to flourish much, but it was an experience that I loved and have since cherished. Then, I got into the whole rave scene and decided to become a DJ. Going back to the start of the whole answer to your question, I love DJing but doing a live thing has always been something I've wanted to do. It's a whole different experience; DJing is fun, you get to play tunes and create a vibe, but actually playing live and showcasing your own material is a feeling you can not compare.
The Ominous sound, I would define it as Electronic Rock & Roll deep housey vibe if that makes sense!

What kind of live elements do and your partner Ricky incorporate into your sets?
Ricky plays guitars and keys, he is a beast on keys and on guitar. When playing live I'm on keys, drum programming and vocals, he does back vocals as well. We basically use a drum machine, 3 keyboards, a guitar and 2 microphones.

How did you meet Ricky, and come together to form Ominous?
We met years ago in Puerto Rico and we were instantly besties. We always spoke of doing a collaboration together, then the timing was perfect when it all came together. I was taking a break from my disCerN project and focusing on my solo stuff when he approached me to help him out to play 2 gigs "hybrid live" with him on keys. Basically I did the gigs and had so much fun that we decided maybe it was the right moment to do what we had always talked about and actually do something completely live, and it has been so organic and flowed so perfectly that we've decided to stick to it. I really love working with him. We get along so well and understand each other, and the most important thing is we do not limit ourselves to anything. It's definitely a great working relationship.

When can we expect the first releases under the Ominous moniker?
We have our first release coming out on Motek which is a 3 track EP featuring a track we did with Cari Golden with remixes by KIKI, Cali Lanauze, and Matt Hardinge in April. Aside from that, we have a 6 track LP coming out on Touch Of Class, also one track coming out on a forthcoming Touch Of Class VA, and a collab with Thugfucker and Pattern Drama coming out on Cityfox. The dates have yet to be determined.

Any cool Ominous live gigs recently or upcoming?
Yes, WMC we will be playing, we can't announce the gigs yet but please follow us on our social media outlets and we will inform everyone in due time. Aside from that, we will be playing March 27 at Verboten NY, Mysteryland, and Groovefest in September.

One last question… what colour is the dress?
Black and Blue.

There you have it.
Linkage: Ominous Facebook // Ominous Soundcloud // Jonny Cruz Facebook // Jonny Cruz Soundcloud // Jonny Cruz Beatport
Tags: Deep House • DeeplyMixed • Discern • features • Jonny Cruz • mixes • ominous • Ominous live • Podcast