BPM Festival Packing List: You're Going to Forget Stuff.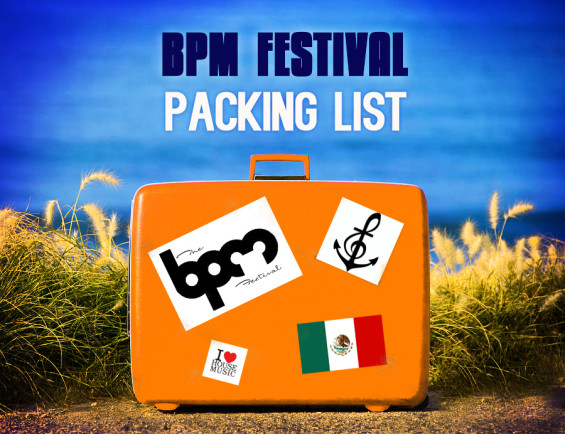 If you're a disorganized mess like me, you're going to forget stuff. Some stuff you can buy at the various shops on 5th Ave or the Mega, but for some stuff, you will be totally screwed if you don't plan ahead. Let's discuss.
► Clothes for hot, humid weather– think 27°C/80°F and upward, humidity nearing 100%. Black clothes are awesome for night and shade, you techno-ass motherfucker, but you're going to be hot as shit in the sun at the day parties. Jeans? No, unless you're wearing them on the plane. Swimsuit? Duh. As counter-intuitive as it may sound when packing for Mexico, I highly recommend you bring some warm clothing just in case, because last year there were a few days that were rainy, chilly, and miserable.
► Umbrella and poncho– You better believe there's a chance it will rain. Last year was a shitshow, with it pouring nonstop through most of the events early on in the week, and unprepared venues struggled to get some type of tarp roof up. Streets and sewers outside of Blue Parrot were flooded knee-high, and the dancefloor at Blue Parrot was a swamp of filthy ankle deep water. It definitely contributed to why so many people got sick last year. And it was COLD. Bring a hoodie or long-sleeve shirt for sure.


Be an Agent of Rain with this mysterious hooded cloak, I mean poncho.
Don't forget the tiny folding umbrella for added mystery and intrigue.
► Fidelity earplugs– You're going to be close to speakers for 10 days straight. Skip this step if you don't want to preserve your hearing a few decades from now- damaged ear cells do not regenerate.


I like these.
► Sunblock– even if you are the kind of person who doesn't need sunblock, remember that UV rays are stronger the closer you get to the equator. Predicted UV index of Playa del Carmen/Tulum for BPM 7-8/11 (sun strength: strong). Skin cancer is no joke.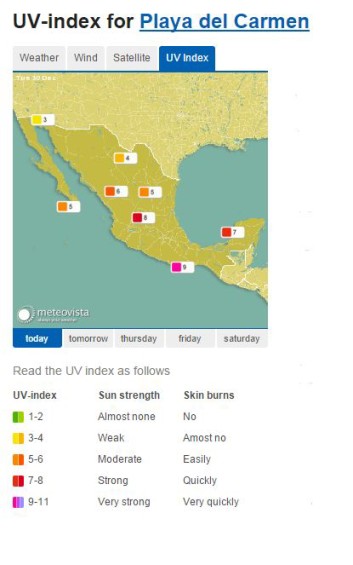 ► Hand sanitizer– minimize your chances of getting sick.
► Spare contact lenses- if applicable. You might lose one in the ocean.
► Medications– You can buy a ton of rx drugs without a prescription in the ubiquitous 5th ave farmacias, but they won't have everything from your home country. Biggest example of this is adderall, which isn't sold anywhere in mexico, even by prescription (ritalin can be found, however). If you have any medications you need, bring them. Same goes for over-the-counter stuff- don't assume they will have it.
► Cell phone service– Figure out what you are going to do, whether it be a TelCel sim card (reloadable at OXXO convenience stores), a roaming plan, or wi-fi only. Remember to have your phone carrier unlocked ahead of time to use a sim card. Call your service in advance to get roaming blocked or set up. HINT: T-Mobile offers a no-contract plan starting at $50 with unlimited texts and data while in Mexico, and will pay your early termination fee with your current cell carrier. Go for it; you won't regret it.
► Money- Call your debit/credit cards and let them know of your travel dates so your card doesn't get locked for suspicious activity and strand you. Bring cash too. Be very wary of getting cash from ATMs- many of the freestanding ATMs on 5th ave are hacked with card cloning/skimmer devices and at least 2 people I know personally have had their debit accounts drained of thousands of dollars after using an ATM in Playa del Carmen during BPM. Rumor has it some of the bank ATMs are hacked in this manner also. If you do use one, call ahead and have your withdrawal limit decreased to something very small, and cancel your debit card and report it as stolen immediately after returning home to avoid any potential issues.
► Sunnies- You will probably lose/break a pair and you don't want to be blinded by bright equatorial sunlight, especially when your pupils will probably be the size of dinner plates. Bring spares. You can also find a nice selection of counterfeit Ray-Bans in the area; be sure to haggle and get the prices down to $5-10 USD.
► Cell phone and electronics chargers- Duh. Also bring an extended battery or external battery pack for long excursions away from electricity. Grab a renter's insurance policy before you leave to cover theft of cellphones/laptops/etc while in Mexico. Assurant (via Geico) offers a plan for less than $20 a month for up to $10k of coverage including while traveling, you just need a police report to be reimbursed.
► Photocopy of passport- Email a copy to yourself.
► Your favourite personal hygiene items– this seems obvious, but you might not be able to find lime-mint toothpaste or edge-to-edge adhesive sanitary pads with dri-weave. Good luck finding your favourite deodorant in Mexico should you run out.
► For BPM wristband pickup– be sure to have the original credit card used for payment and a form of ID, and a receipt is helpful. They are strict and really like to give people a hard time on this.
► Power plug adapter/voltage converter- Mexico uses 127v, A/B sockets. Standard 110v prongs like the US/Canada use are fine. If you are from a country that uses 220v or a different socket type, you will need a power converter. Look at this map below, the colours are pretty, right?
Did I forget anything? Comment below.
Links: BPM Festival 2015 Lineup and Party Guide // Tulum Parties and Off-BPM Party Guide // Don't Get Sick at BPM!
Tags: BPM • BPM Festival • Playa del Carmen • Tulum