Awesome Mixes // October 2014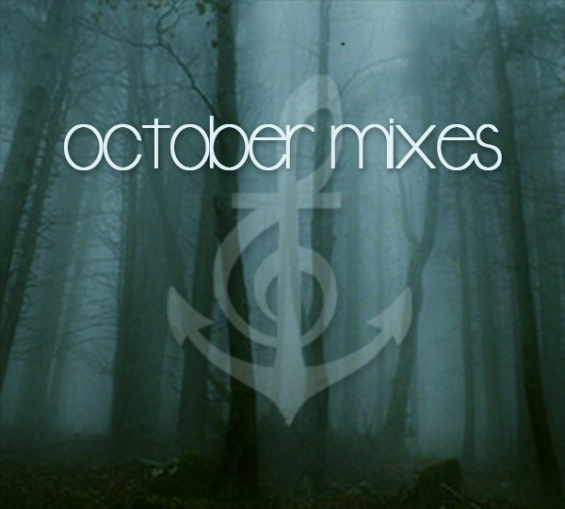 October was a great month for podcasts and live sets. This is a collection of some of DeeplyMoved's personal favourites, mostly mixes bordering on darker vibes and melodies.

Soulfooled Podcast 028 by Alex Niggemann

Really incredible deep, moody mix including Ripperton's remix of Niggeman's "Materium," Maher Daniel's "A Call from Within," Matthias Meyer remix of Niggeman's "Boujuma," Niggeman's "Earth Symphony," the killer Mind Against remix of "All Comes," Dahu remix of Pete Oak "Tranquila," David Durango – "Parametric Soul" (Jona remix), and other dark gems. Free download via Soundcloud. I literally cannot stop listening to this one.

Diynamic Radioshow 10/2014 by Adriatique

Stellar mix by Adriatique including Luca Bacchetti's bomb Endless remix of Livio & Roby's "Ananda," Loopsize – "Kontrol Punkt", Clarian and Uchi "Floating in the Wind," Sven Väth – L'Esperanza (Âme Reinterpretation), and closing out with Roman Flugal's "Wilkie." This mix is full of really great tracks that I hadn't heard prior to this.

The Anjunadeep Edition 18 With Whomi

Beautifully dark mix by the ever-talented Whomi, with his fantastic remix of Ultraista – "Small Talk," his incredible remix of Martin Roth's "Mel," and equally impressive remix of Mashk's "Home," as well as Alex Banks – a Matter of Time (Frank Wiedemann Remix), among others. This is another mix I just couldn't stop rinsing.

Christian Löffler for SSENSE

Lovely mix with a variety of tracks including Weval's live mix of "Something," Stimming – "Der Schmelz" (David August Remix), Daniel Bortz – "The Misery" Feat. Nils Corssen (Nu And Pauli Vs Acid Remix), Super Flu – "Jo Gurt" (DJ Koze Remix), Dillon – "A Matter Of Time" (Monokle Remix), and one of my personal favourites, Mind Against's remix of Christian Löffler – "All Comes" feat. Gry.

Pete Oak – Steyoyoke Black Podcast #002

Excellent darker mix jam-packed with DeeplyMoved favourites, including Vimes – Celestial (Gardens of God Remix), Adriatique – "Numb" and "Rollox," EdOne & Bodden and Teenage Mutants – "Anthem," Fur Coat – "U Turn," Christian Löffler – "All Comes" (Mind Against remix), and other dark jewels. Free download via Soundcloud.

Lovecast Episode 065 – Maher Daniel [Musicis4Lovers.com]

Chill mix, free download via Soundcloud.

Gardens of God – BBC Radio 1 After Hours Mix – 24.10.2014

Melancholy mix including Vincenzo feat. Minako – Just Like Heaven (Dave DK Remix), Christian Loeffler – All Comes (Mind Against Remix), Johannes Brecht – Fallen Angel (Original Mix), and others.

Electronic Groove – EGNU.014 Gab Rhome

Deeply mesmeric selection including his lovely new tracks "Summit Meeting," "Shattered," and his and Lee Burridge's remix of "Time Has Changed."

Toxism Podcast Sessions – Podcast #06 – Nyex

Nice deep mix including Ripperton's remix of Alex Niggeman "Materium."

alaplay Podcast #107 @ BLANCAh (BRA)

Great deep, dark mix opening with her own awesome vocal production, "Higher Ground," as well as tracks like Stephan Bodzin & Marc Romboy's "Kerberos."

KRINK [live] @ GALACTRONICA KARLSRUHE | KOLLEKTIV LIEBE EVENT

Incredible, very uniquely sounding dark set including lots of tracks you probably haven't heard yet.

Mind Against live @ Life and Death party – Sub Club, Glasgow 17 oct 2014

Hypnotically dark, slowly building set with lots of tracks that will certainly be new to you.

Music Forest 002 – Patrick Podage

Deep, hypnotic mix. Tracks including Moderat – "Bad Kingdom" (DJ Koze Remix), Flowers and Sea Creatures -"No One Gets Left Behind" (Konstant Sibold Remix), Few Nolder – "Chall," and Less Hate & Inner Rebels – "Looking at You" (Podage Remix). Free download.

TOC Podcast Episode 007 – disCerN / Jonny Cruz

Sexy deep mix with some indie touches. Free download.

Kiyan A – Lux ex Tenebris

A journey through dark and light melodies.

Tags: Adriatique • Alex Niggeman • Blancah • Christian Loffler • dark • Discern • feature • features • Gab Rhome • Gardens of God • KRINK • Live Sets • Maher Daniel • Mind Against • mixes • Nyex • Patrick Podage • Pete Oak • podcasts • Whomi